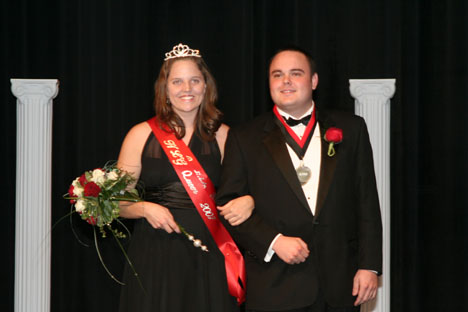 by Beth Sowers
Hannibal, MO – Hannibal-LaGrange College held Homecoming 2007: Lighting the Way during the first weekend in November. According to Jo Ann Raney, director of alumni services, HLG enjoyed another great homecoming event!  With great weather for our annual alumni golf classic and Trojan Turkey Trek, we broke another record for attendance this year.  One of the highlights of the weekend was the alumni/student banquet Friday evening when HLG presented awards to three outstanding alumni, continued Raney.  We were privileged to have the Hannibal High School Jazz Band at the brunch on Saturday morning.  The weekend was topped off with victories in the volleyball and men's basketball games.  It was a great Homecoming and I'm already looking for to next year when HLG will celebrate our 150th birthday!
Alumni from across the nation attended Homecoming, including alumni from Georgia, Texas, Kansas, Illinois, Florida, Arkansas, Oklahoma, Iowa, and all over the state of Missouri.
Jenilee Roddy and Matt Assel were crowned the 2007-2008 Homecoming Queen and King during the Homecoming Gala and Coronation on Friday evening, November 2.
Roddy, daughter of Ben Roddy and Judith Roddy, is a communications major with an emphasis in broadcast journalism.  She is from Sioux Center, IA.  Roddy is the current SGA President, member of Covenant, choir, jazz choir, Trojan Track team, and cast member in the HLG winter musical It's a Wonderful Life.
Assel, son of Don and Linda Assel, is a music education major from Juno, Alaska.  While at HLG he has been a part of Vision, concert choir, jazz choir, concert band, jazz band, hand bell choir, and is the musical director for the winter musical, It's a Wonderful Life.
Other queen candidates were seniors Julie Gares of Kahoka, MO, and Sarah Wood of Columbia, MO. King candidates were seniors Justin Martin of Boonville, MO, and Shaun Skiles of St. Charles, MO.
Ryan Humphreys of Hannibal, MO, won overall first place in the annual Trojan Turkey Trek with a time of 16:57, followed by Christine Kuenster of Illinois, with a time of 21:25.  Overall male HLG alumni winner was Peter Hokansen (22:32), and the overall female HLG alumni winner was Penny Landers (25:46).
Other Homecoming events included a pep rally, alumni golf tournament and baseball game, a president's reception, concerts by This Hope and Charlie Hall, and volleyball against St. Louis College of Pharmacy. The weekend ended with women's basketball playing Culver-Stockton, and men's basketball against Robert Morris. Between these games the senior Homecoming court was recognized.