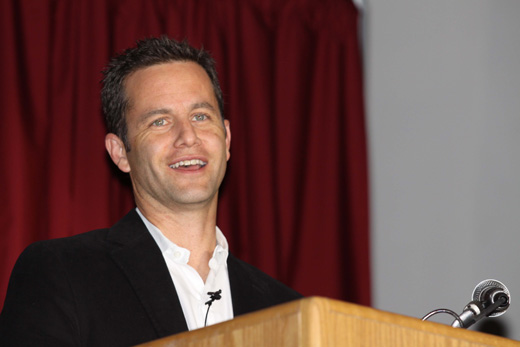 by Beth Sowers
Hannibal, MO – With over 800 tickets sold and a record 1100 in attendance, it's safe to say that "Seaver-fever" hit Hannibal-LaGrange University Friday night, November 19. Kirk Cameron, best known as the lovable teen heartthrob "Mike Seaver" of the award-winning series Growing Pains, spoke at the 69th annual HLGU Booster Banquet, with a theme of "Still Growing."
Cameron is also well known for characters "Buck Williams" from Left Behind: The Movie – based on the NY Times runaway best-selling novels by Tim LaHaye and Jerry Jenkins, and "Captain Caleb Holt" from the film Fireproof – the highest-grossing independent film of 2008.  Cameron is the producer and host of the award-winning evangelistic reality television program, The Way of the Master,winning accolades such as the NRB Best Program in 2005 and the NRB People's Choice in 2004 and 2005. A devout atheist-turned-Christian, Kirk now travels the country speaking in churches and at community events nationwide sharing his heart and desire for Christ. He is married to Chelsea and they have six children.
"Thank you for being here and for your continued support of Hannibal-LaGrange University," said Dr. Woodrow Burt, HLGU President. "Many of you sitting here tonight have helped make our dreams come true over the years. You have believed in what we are trying to accomplish and you have invested in our efforts. For that investment I want to say thank you, thank you for believing in us and supporting us." Dr. Burt acknowledged the special guests in attendance and then introduced Cameron as the guest speaker.
"If you had told me I wouldn't go to college, and that instead I would be an actor, I would have told you that you were crazy," said Cameron. "I was also an atheist, and if you had told me that one day I would be doing faith-based projects like the Left Behind movies or The Way of the Master or Fireproof I would have told you that you were out of your mind… But God had different plans for me."
Before expounding on that plan, Cameron had a little fun with the audience, asking them to sing the lyrics to the Growing Pains them song while he entertained them with "60 seconds of Mike Seaver" with the hopes to squelch their "Seaver Fever." "Before we completely dismiss Mike, though, I have to say Growing Pains was just one of those epic chapters of my life. So many things happened for me there and the two most life-changing were, one, that's where I met my wife, Chelsea. The other event that occurred was when I met the Lord Jesus Christ."
Cameron went on to talk about his life as a child star and how the pressures affected him. After attending a co-worker's church he began to have questions. "Someone else invited me to church and gave me a Bible and I began reading it, and it just came alive to me."
He went on to talk about the moment where his heart was truly changed. "I concluded that I was part of the ultimate statistic: ten out of ten people die," said Cameron. "Kinda sobering, isn't it? If I found out that there was a God and a heaven, I knew I wouldn't be going. It just made sense to me. I just knew, something in my heart told me that if there is a God and He keeps my organs functioning and my heart beating and I had not even whispered 'thanks' once my entire life, but instead spit in His face… I knew that I would deserve every drop of justly deserved wrath and punishment if God treated me according to how I lived," continued Cameron. "It just hammered me, my conscience was just pounding away at me. I would go down in history not as some great celebrity, but in the history books of eternity as just another fool. And so I decided to pray, 'God if you're there, please reveal yourself to me.'"
From then on, Cameron lived his life as a Christian and vowed to take on projects that reflected this and to share his story and love for Christ with the world. To check out his current project, a documentary called "Monumental" please visit www.monumentalmovie.com.
The evening also included performances by the Hannibal-LaGrange University Band, Covenant, and Vision, and a book signing by Cameron.