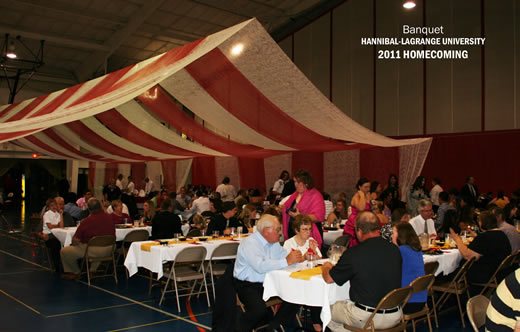 by Carolyn Carpenter
Hannibal, MO – Hannibal-LaGrange University held Homecoming 2011, "The Greatest Homecoming on Earth", during the first full weekend in October. According to Lauren Youse, director of alumni services and development, "This was an historic event for us. It was our first homecoming as Hannibal-LaGrange University. The weather for the various activities was perfect and participation was excellent."
The circus-themed homecoming dinner banquet was held in the Mabee Sports Complex with the gymnasium being transformed into a big-top circus tent. This year's banquet included appetizer stations consisting of caramel apples, pretzel bites and peanuts. The buffet-style dinner included pork loin, dressing, roasted potatoes, green beans and roll with butter. For dessert the guests were treated to fresh-made funnel cakes.
During the Homecoming Coronation on Friday evening, October 1, Katelyn Fray, an HLGU Human Services major was crowned the 2011-2012 Homecoming Queen and Brett Jones, an HLGU Bible major, was named Homecoming King. Other queen candidates included: Alysa Askew, a Biology/Liberal Studies major, Kortney Cook, a Business Administration major, and Sarah McGarry, a Human Services major. Additional King candidates included: Joseph Cherri, a Biology major, Jonathon Rasch, a Recreation Management major, and Dane Ruffin-Solari, a Bible major.
This year's Alumni Brunch honored three HLGU grads.  Matt Bartig was chosen as HLGU's 2011 Outstanding Alumnus. Matt was born and raised in St. Louis, Missouri and is a 1997 graduate of Hannibal-LaGrange University with a Bachelor's degree in Education. "My passion in life is to lead a large group of students to a place in their walk with God that they have never been. My goal is to raise them up as leaders with a call and passion to take Christ to the nations," said Bartig. Currently, Matt is the Student & College Pastor at First Baptist Church in Orlando, Florida and is working on his Master's degree in Church Leadership.
HLGU's 2011 Distinguished Alumnus Award was given to Dr. Phillip B. Foreman. Dr. Foreman was born and raised on a farm outside of Hannibal. In 1947, he received his Associate of Science degree from Hannibal-LaGrange College. Currently, Dr. Foreman volunteers his time with the Hannibal Free Clinic as a volunteer surgeon. He and his wife, Priscilla, attend Big Creek Presbyterian Church in Hannibal. Dr. Foreman serves on the Disaster Assistant Team and has gone on several disaster assistant trips, as well as medical mission trips.
HLGU's 2011 Outstanding Community Service Award was presented to Seth Mendenhall, R.N. Seth is a 2010 Hannibal-LaGrange University School of Nursing graduate. Academically, Mendenhall received the Nursing Clinical Achievement Award. Seth was instrumental in assessing the injuries sustained by his fellow volunteers following the 2010 Haiti Mission Trip accident. Currently, Seth is employed on the Med Peds unit of Hannibal Regional Hospital.
Other homecoming events included the annual golf tournament, a Golden 50th Anniversary & 50 – Year Club Luncheon, an alumni art exhibit, entertainment by juggler, comedian, and unicyclist Jeff Civillico, alumni athletic events, and men's and women's soccer.  The men's soccer team won its eighth straight contest Saturday in a 5-1 victory over Williams Baptist College. The Lady Trojans won its third straight soccer match Saturday afternoon in its homecoming contest against Benedictine University at Springfield with a score of 4-0.
Photo Gallery