by Rebecca Penner
Alex Kendrick was the keynote speaker for 71st annual Booster Banquet held Friday, November 16th at Hannibal-LaGrange University.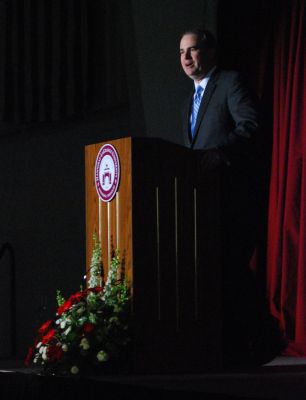 Associate pastor of Sherwood Baptist Church since 1999, Alex has co-written (with brother, Stephen Kendrick), directed and acted in all four movies Sherwood Pictures has produced, Flywheel, Facing the Giants, Fireproof and Courageous.
Roughly 700 guests were in attendance, supporting the University and attentively listening to Kendrick as he related the progression of their movies and the instances where God's powerful hand had orchestrated everything from forklifts to theater showings.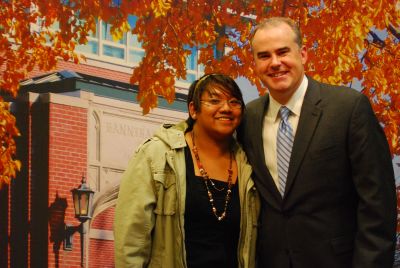 Kendrick and his brother started to make the movies after reading a survey stating that films are more influential today than churches so they set out to change that. Courageous, their most recent movie, grossed 33 million in the box office, showed in theatres in 28 countries and is being sold on DVD in 75 countries.
"I knew when I watched, Flywheel, his very first movie, kind of amateurish, didn't have all the equipment," said Dr. Anthony Allen, Hannibal-LaGrange University President, "but one thing that they did do right in that movie was that they knew how to tell a story, they knew how to do it compellingly and they knew how to touch your heart with the truth."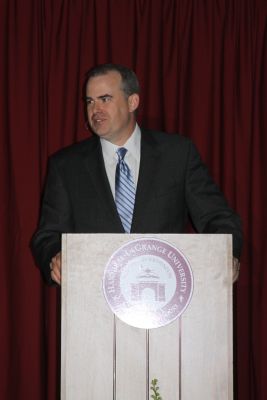 Kendrick conveyed the importance of actively pursuing God. "God loves to be sought," he said. "The Lord wants us to chase him…Don't jump ahead of God, don't lag behind him." He also emphasized that "there is a difference between a good idea and a God idea."
He went on to say that there are three arenas of battle in which a Christian must fight, the personal arena which consists of family, friends, work etc; the corporate arena which is made of the church; and the kingdom arena which encompasses everyone.  Christians must be serving the Lord in these stages, in this order. Kendrick then gave the example of David in the Bible who first fought the lion and the bear by himself before he went on to defeat Goliath in front of the army, corporately, and then led the nation of Israel back to the Lord.
Other entertainment at the banquet included the HLGU Band and the Chamber Choir. The meal, prepared by HLGU's food service Fresh Ideas, started with a salad of mixed greens garnished with craisins, mandarin oranges, and sesame seeds and accented with a poppy seed dressing and fresh baked breadstick. The entrée was a breaded chicken breast with cordon bleu sauce on a bed of wild rice with roasted mixed vegetables. Dessert was a rich chocolate or white chocolate mousse dusted with heath pieces and garnished with chocolate peppermint sticks.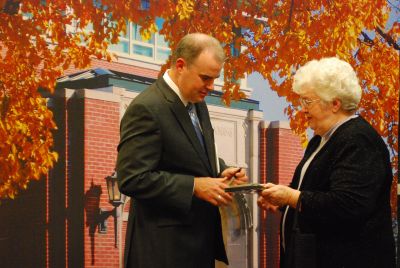 All in all a great evening was had by everyone in attendance. Next year's 72nd annual banquet will be held on Friday, November 22, 2013. For more information about HLGU's annual Booster Banquet please contact Director of Alumni Services and Advancement, Lauren Youse at 573.629.3126 or via email at lauren.youse@hlg.edu.