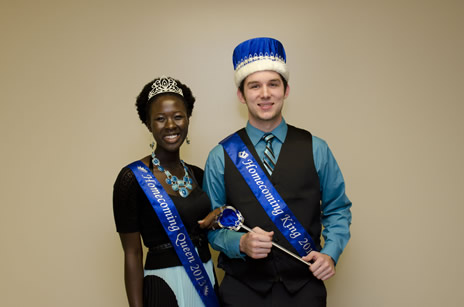 by Rebecca Sneed and Bryce Kelly
The 2013 Homecoming was another great success this year. Lauren Youse, Director of Alumni Services and Development said "I'm so pleased with the alumni turnout at Homecoming this year. Alumni of all ages came to campus to play in alumni games, attend banquets and luncheons and reunite with their classmates."
The 50 Year Club Luncheon on Friday saw an increase in attendance this year. Thirty-eight graduates from 1963 and earlier were present and 14 from the class of 1963 were inducted into the club. After the luncheon, they toured the campus, visiting their old dorms and exploring newer buildings.
Later that night, everyone got dressed in their best for the Homecoming Banquet in the Mabee Sports Complex. Keeping with a Greek-inspired theme during the buffet-style banquet, guests could choose from an array of an all you can eat pita bar, grape bar, and olive bar. A menagerie of other traditional Greek entrees and desserts were also on hand to be enjoyed.
Massaly Mashburn was crowned the 2013-2014 Homecoming Queen during the Homecoming Coronation on Friday evening, October 4, and Matt Lange was named Homecoming King. Mashburn is an elementary education major from Troy, Missouri, and Lange is a Bible major from Sedalia, Missouri.
Other queen candidates were seniors Alicia Andres Arroyo from Zaragoza, Spain; Ruth Anna Bautista from Metro Manila, Philippines; Heather Brown from St. Joseph, MO; and Rebekah Keen from Washington, MO. King candidates were seniors Tung Nguyen from Thanh Hoa, Vietnam; Nathan Hammock from Hannibal, MO; Bradley Stewart from Abingdon, IL; and Matt Brennan from Rochelle, IL.
This year's Outstanding Young Alumnus Award went to Jeremy Allen Larson. Jeremy received his Bachelor of Science degree in business education from HLGU in 2009. He has also gone on to receive his Master of Art in Education degree and Educational Law Certificate from the University of Illinois and is currently he is pursuing an Education Specialist degree. Jeremy has worked as an adjunct professor at Lincoln Land Community College, a technology instructor in the Waverly School District, and a middle school principal at Mayo Middle School. He is also a chairperson of the Illinois Principal's Association.
The Distinguished Alumnus Award went to John D. Zimmer. John Zimmer received his Bachelor of Science degree in business administration from HLGU in 1991. John is also a graduate of the School of Banking at the University of Wisconsin. He has been employed at HNB in Hannibal, MO for 20 years and recently became the president and CEO in December of 2011. John has served as a board member of the Hannibal Chamber of Commerce, Hannibal YMCA, and United Way. Currently he is a board member of HNB, Hannibal Regional Hospital, American Red Cross, and NEMO Community Development Corporation. While attending HLGU, John threw the first no hitter in the history of the college during a baseball game against Webster University.
After the awards, entertainment was provided by comedic magician pick-pocket Mike Bliss.
Other Homecoming events included a 1 1/2 mile fun run, president's reception, alumni athletic events, a cross country meet and men's and women's soccer games.
The Trojans competed well this weekend as the men's soccer team defeated the Missouri Baptist Spartans in overtime and women's soccer team tied the Lady Spartans during their games on Saturday. The men's and women's cross country teams also came away with first and second place, respectively, during the Trojan Invitational Friday afternoon.
Sunday morning the events wrapped up with a worship service on campus led by HLGU's Praise Song and a message given by Dr. Anthony Allen, HLGU President. Special music was performed by HLGU's Chamber Choir.
Next year, Homecoming is scheduled for Friday, October 3 through Sunday, October 5.