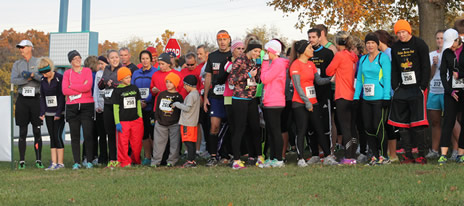 Click here to view race results!
Click here to view the photo Gallery
The 2013 HLGU Trojan Turkey Trek, held on Saturday, November 2 was once again a success. The chilly morning temps, in the low 50s, did not deter the 186 runners and walkers who participated in the 8th Annual "TTT" 5K Run/Walk and Kid's Fun Run on the campus of Hannibal-LaGrange University. Runners came from surrounding communities, along with participants from all over the tri-states.
The "TTT" 5K Run/Walk and Kid's Fun Run are annual events that benefit HLGU mission trips. The 5K Run/Walk began at 8:30 am on the grounds of the Mabee Sports Complex followed by the 1/2-mile fun run for kids. Overall winners for the 7th Annual TTT were: (female) Marisa Ellison of Hannibal, MO (21:56) and (male) Ryan Constable of Hannibal (19:24). This year's awards were sponsored by Hannibal Regional Medical Group.
The overall alumni and overall masters award for females also went to Marisa Ellison. The overall alumni male award went to Matt Wright (20:34) and the overall master (male) was awarded to William Hoffman (23:36).
Major sponsors for this year's TTT included: Fiddlestiks and Printex. Other sponsors for this year's TTT included Big River Pest Control, Antioch Baptist Church, Big River Oil, Culligan, Fresh Ideas, Refreshment Services Pepsi, McDonalds, General Mills, and Papa Johns. The top two runners in each age group received medals, sponsored by Hannibal Regional Medical Group. Children who participated in the non-competitive fun run each received a ribbon.
Winners of the age groups are as follows: 12 and under male: Connor Bross (24:41) and Gabriel Orr (26:58); female: Alexia Gonzalez (30:36) and Laura Noland (31:44); 13 – 15 male: Brenton Noble (28:34) and Wade Schieferdecker (29:28); female: Brianna Carroll (28:14) and Helen Long (40:49); 16 – 19 male: Craig Houchin (21:22) and Michael Orr II (26:55); female: Madison Grumich (22:08) and Taylor Roundtree (29:18); 20 – 29 male: Andy Lemons (21:31) and Ryan Gottier (22:15); female: Mallory Brown (23:16) and Janelle Strother (24:23); 30 – 39 male: Ryan Constable (19:24) and Matt Wright (20:34); female: Jennifer McClain (22:52) and Ashley Gottman (24:25); 40 – 49 male: William Hoffman (23:36) and Kevin Knickerbocker (25:34); female: Marisa Ellison (21:56) and Karen Buckwalter (24:45); 50 – 59 male: Randy Muck (25:52) and Tom Batenhorst (26:20); female: Joni Wilson (25:05) and Sandy Walton (44:16).
Lauren Youse '05, Director of Alumni Services and Development was very pleased with this year's race. "Once again, we had great race and a record number of participants. I'm thankful to our 2013 TTT sponsors for their support. This very special event is only successful because of the hard work and efforts of so many."
The Trojan Turkey Trek is a fundraising event that helps defray the costs of mission trips for HLGU students. HLGU has been nationally recognized and awarded for the mission emphasis of the University. Students have opportunities each semester break (fall, Christmas, spring, and summer) to participate in missions or service projects locally, nationally, and internationally. The money raised from the Trojan Turkey Trek helps to offset student fundraising endeavors. Mark your calendars for next year's trek: Saturday, November 1, 2014.
For more information on the Trojan Turkey Trek, contact Meri Allen at 573-629-3099 or via email at mallen@hlg.edu.