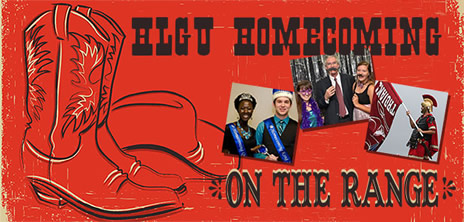 by Michaela Crawford, Public Relations Student Assistant
The Wild West found itself at Hannibal-LaGrange University's 2014 Fall Homecoming on October 3, 4, and 5. Trojan alumni were welcomed back to campus to remember a time devoted to educational pursuits, while reconnecting with old friends. With a western themed banquet, many alumni events, the coronation of the 2014 king and queen, and entertainment by Matt Jernigan, homecoming was a weekend packed full of adventure for all in attendance.
The weekend kicked off with the induction of new members into the 50-year club who graduated from Hannibal-LaGrange University more than 50 years ago. This year the honored class of 1964 was recognized. The luncheon, hosted on Friday, brought back some of HLGU's history and reminded all of us just how far we have come as a University. The president of the University, Dr. Anthony Allen, spoke about how the University has been blessed as a school in the past and how we are now on a path to an even brighter future.
By Friday evening, HLGU Homecoming events were in full swing starting with the Annual Alumni Art Show, showcasing Todd Damotte '97. Directly following the art show, the Homecoming on the Range Banquet was held, where all HLGU cowboys and cowgirls dressed their best and came out to enjoy a western themed dinner.
After dinner, guests moved down to the Parker Theatre for the night's entertainment and coronation. Previous HLGU king and queen, Matt Lange and Massaly Mashburn Hare '14, returned to campus to crown the 2014 king and queen, Jordan Troeger and Sarah Hammock. Other candidates in the homecoming court included Drew Askew, Jordan Johnston, Micah Smith, Amanda Martin, Emily Klenk, and Jenny Sturgeon.
Following the coronation, HLGU athletes and 50-year club members were recognized, and the alumni awards were presented to David B. Burt, Rev. Wesley Hammond, and Libby Dingus Samples.
Outstanding Young Alumnus award winner, David B. Burt, received his Bachelor of Science degree in business administration from HLGU in 2005, graduating summa cum laude. Other accomplishments of David's include receiving the 2013 Man of the Year award from the Newton Chamber of Commerce, and being selected in the 2014 Top 40 Under 40 by the Mississippi Business Journal.
Distinguished Alumnus award winner, Rev. Wesley D. Hammond, received his Bachelor of Theology degree from HLGU in 1985. From 1988 to 1995 Wesley served as pastor at Emanuel Baptist Church in Fallon, NV. Currently, he serves as the pastor at First Baptist Church of Paris, in Paris, MO, where he has been since 1995, and as president of the Missouri Baptist Convention and Chairman of the Associational Missions Partnership Taskforce.
Outstanding Service award winner, Libby Dingus Samples, received her Associate of Science in Nursing degree from HLGU in 1996. In 2008, Libby, along with some friends, started a 5K run called the 12:1 Run, based on Hebrews 12:1 which says "let us run with endurance," (ESV). Recognizing that all runners would understand the need for clean water, Libby and her friends use the event to raise money to purchase water units that chlorinate dirty water, making it safe to drink. The 12:1 Run has raised hundreds of thousands of dollars and sent units out all over the world.
Matt Jernigan, a comic impressionist, then hit the stage with his guitar, creating spoofs ranging in all directions from popular rock, R&B, and hip hop to country, and famous pop stars. He brought the audience to laughter with his quick wit and musical skill throughout the night, and no one left without a smile on their face.
The festivities continued on Saturday, beginning with the Scarlet & Blue Scramble 1.5 mile fun run. Several alumni games including women's Trojan volleyball and men's Trojan Soccer where held in the afternoon for all to enjoy. The alumni BBQ tent was the center of several enjoyable activities, including performances by The New Edition and a petting zoo with a baby llama, baby camel, and several other animals.
As Homecoming weekend came to a close, a chapel service was held on Sunday morning where both Praise Song and Chamber Choir performed. Dr. Anthony Allen gave the message while alum Todd Damotte '97 painted a "pictable" of Jesus during the service. A pictable is a painting that is composed of strong visuals put together with a story or parable. The painting is now on display in the Hagerman Art Gallery. Following the chapel service, guests were invited to attend the Farewell Alumni Luncheon in the Partee Center. HLGU's Homecoming 2014 was a weekend to remember for all in attendance. Mark your calendars for next year's homecoming, October 2, 3, and 4, and be sure to join us for the 2015 Winter Homecoming on Saturday, January 17.