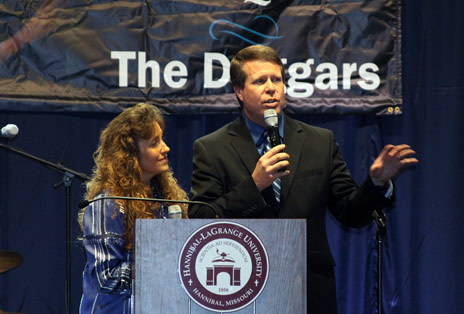 by Rebecca Sneed
Cold and rainy weather did not deter the over eight hundred guests from attending Hannibal-LaGrange University's 73rd Annual Booster Banquet featuring guest speakers Jim Bob and Michelle Duggar, stars of TLC's 19 Kids and Counting.
"I can tell this is a very special place," said Jim Bob. "There are a lot of godly people, people that love the Lord and want to make a difference for the next generation and so investing in this university is a big investment for the future."
Sharing their testimony on how their family started, the Duggars said that Michelle had been on a birth control pill for the first three and a half years of their marriage. She then went off it and had their firstborn, Joshua. Following his birth Michelle went back on the pill only to get pregnant again and wind up losing the baby. They then found out that the pill she was on was abortive in nature.
"We were shocked. We were devastated," said Michelle. "As believers we love life and here we were, enjoying holding this one baby in our arms and being parents and realizing that with our own hands, our own lack of knowledge, we had allowed our baby to be destroyed and we wept and we went before the Lord and we searched the scriptures and we found that God says that children are a blessing and a gift and a reward from him and at that point we said 'Father, forgive us and give us a love for children like you love children. Father we want to give this area of our life to you and we want to receive whatever gifts you want to give us.' And right after that, the Lord blessed us with twins! And another one…"
Then Jim Bob joined her and together they repeated "and another one and another one…" drawing laughter from the audience.
The road hasn't always been easy for the Duggars, but they were trusting in the Lord and following His plan for their lives so "in faith, we kept going" said Jim Bob.
Michelle added, "As we struggle through this life, believe me, we'll be the first to tell you we don't have a perfect family, but by God's grace, His word has all the answers to life's questions and really, honestly, that's our desire. When we share in the show that really it's not about our family, it's about making Christ known and pointing people to the Lord Jesus Christ."
The Duggars also shared many sincere and uplifting words of encouragement to spouses and parents on expectations, reality, anger, a soft word turning away wrath, praising children, and the Lord's provision for their family.
Their lives changed forever when one day they happened to be in town during a protest against partial birth abortion at the state capitol. A ban against partial birth abortions was voted down that day and Jim Bob felt God impressing upon him to run for state representative, a race that he won.
After four years as a state rep, God impressed upon him to run for US senate. Already feeling way over his head Jim Bob said "I agonized over that but I knew that God had just impressed on me what he wanted me to do."
Their family held rallies and barbeques and even sold their house and used half the money for the campaign. In all of this though, they had not felt God telling them that they were going to win the race.
On the day of the election they took their then 13 kids to the poll as a learning experience for them. That night he lost but they rallied together and prayed, thanking God for the experience and saying that they were ready for whatever came next for them.
The very next day, a picture of their family at the polls ran in the New York Times along with a story talking about this guy in Arkansas with 13 kids who was running for the senate. From there, a writer for Parents Magazine saw the article and contacted them about doing a story. Then an executive with the Discovery Health channel saw the article in Parents Magazine and asked the Duggars to be the feature of a one-time documentary. The Duggars prayed about it and agreed that maybe this was their opportunity to share with others that children are a blessing from the Lord. They only asked that the producers wouldn't edit out their faith because as Jim Bob said, "If you edit out our faith, then you're really not telling the whole story."
The show was so popular that the producers came back to ask to do another show and another one because they kept being so successful. Eleven years and over 200 shows later, 19 Kids and Counting is now the highest rated show on TLC.
"God's not going to lead each one of us to have 19 children," said Jim Bob, "but as we're seeking the Lord, the Lord is going to put different things on each one of our hearts and this group right here, if each one of us dedicate ourselves to following what God puts on our hearts individually, we will be an army to impact the world for Christ."
He also expressed his thankfulness for HLGU by saying "I'm so thankful for this school that has God as the focus and these students that are graduating from here, they have not just a good education, but they have a close relationship with God to go out into the world to do good and to impact this world for Christ."
God has opened many doors for the Duggars to share that children are a blessing from the Lord. To date they have been featured on five Discovery Health and TLC documentaries entitled, 14 Children and Pregnant Again!, 16 Children and Moving In!, Raising 16 Children!, On the Road with 16 Children! and Duggar's Big Family Album.
Jim Bob and Michelle Duggar married July 21st, 1984. To date they have been blessed with 19 children, (10 boys and 9 girls) Joshua (and wife Anna), Jana and John-David (twins), Jill (and husband Derick), Jessa (and husband Ben), Jinger, Joseph, Josiah, Joy-Anna, Jedidiah and Jeremiah (twins), Jason, James, Justin, Jackson, Johannah, Jennifer, Jordyn-Grace Makiya, and Josie Brooklyn.
Following the Duggars' message, Dr. Allen wrapped up the evening by thanking them for their words of wisdom and saying "Tonight is a very special occasion because we're gathered together here as University family to try to make a difference in the lives of young people. The reason I get so excited about what I get to do as president of this University is that every day I'm surrounded by bright young minds, preparing themselves in a Christian environment to make an impact in the world and a difference for the gospel and the cause of Christ…An educational environment shaped and formed by faith produces students whose lives will be shaped and formed by faith."
Prior to the Duggars' message, those in attendance at the banquet also had the opportunity to hear testimonies from two HLGU students, Amanda Martin and Ryan Pickering.
"The knowledge I've soaked in here goes far beyond academics," said Amanda, a senior elementary education major. "At Hannibal-LaGrange I'm not only receiving a higher education, but also preparation for the highest calling of my life."
Ryan Pickering, a senior Bible major added "No matter how academic or intellectual the study is, the spirit of God is always more and that is evident at Hannibal-LaGrange."
HLGU's ministry team Praise Song performed three songs following the student testimonies, All my fountains, Oceans, and an a Capella arrangement of My Ransom and Jesus Paid it All.
All in all, an enjoyable evening was had by all in attendance. Next year's banquet will be held on Friday, November 20, 2015. For more information about HLGU's annual Booster Banquet please contact Director of Alumni Services and Institutional Advancement, Lauren Youse at 573.629.3126 or via email at lauren.youse@hlg.edu.