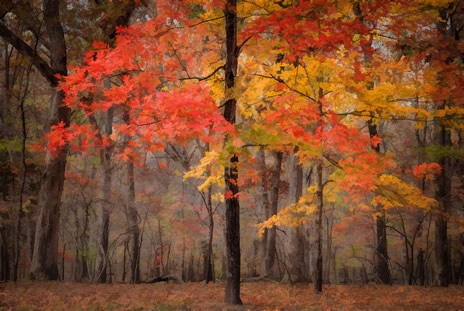 by Rebecca Sneed
Hannibal-LaGrange University's Art Department is presenting an opening reception for guest artists Connie Stephens and Andrea Linderman on Friday, November 6, at 6 pm in the Hagerman Art Gallery of the Roland Fine Arts Center.
Stephens is a Hannibal native whose interest in photography blossomed a few years ago after purchasing her first DSLR camera. As she began to look at photography as an art, her love for the challenge of creating something enjoyable and stimulating grew. Today she expresses inspiration through photos of flowers, scenery, and nature.
"The world is full of beauty and for me, it is tremendously exciting to capture such beauty on camera and share it with others and watch them enjoy the fruits of my creativity," said Stephens.
A 1963 graduate of Hannibal-LaGrange and graduate of Kirksville State Teachers College, Stephens is a self-taught photographer and a member of the Hannibal Photo Club and Hannibal Arts Council.
Linderman, though she was born in the Midwest, grew up in a log cabin her family built near Delta Junction, Alaska. She then lived in New Mexico for 17 years before moving to Hannibal in 2003.
Linderman has always loved taking pictures but started more artistic efforts in 2007 when she got her first DSLR camera. A self-taught photographer and member of the Hannibal Photo Club and Alliance Art Gallery, her work has been published in AAA Sojourns magazine. She enjoys all types of photography, but especially enjoys nature and macro photography.
For more information on the exhibit, contact Robin Stone, art department chair, at 573-629-3175 or via email at rstone@hlg.edu.