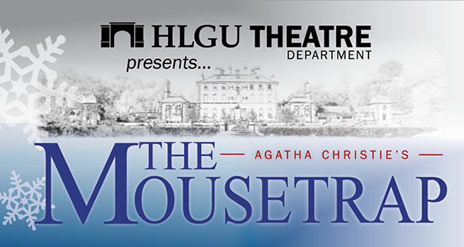 by Michaela Crawford, Public Relations Student Assistant
The Hannibal-LaGrange University Theatre Department will be presenting three performances of Agatha Christie's The Mousetrap November 19 and 21 at 7 pm and November 22 at 2 pm in the Parker Theatre of the Roland Fine Arts Center.
Agatha Christie's The Mousetrap depicts a group of strangers stranded in a boarding house during a snowstorm. One of them is a murderer. Is it the newly married couple who run the house? The spinster with a curious past, the strange man who claims to have overturned his car in a drift, the retired Army major, the young man who seems to be running away from something, or the unpleasant woman who is never pleased? Into their midst comes a detective who digs into everyone's backgrounds, rattling a lot of skeletons. With a second murder, and a third looming, who can be trusted? The Mousetrap is the world's longest running play by the foremost mystery writer of her time.
Cost for admission is $9 a ticket in advance and $10 per ticket at the door. Admission for seniors 60+ is $8 in advance and at the door. For groups of 10 or more, admission is $8 per ticket. To reserve tickets, please call the theatre box office at 573-629-3182.
For more information about this event, please contact Sabrina Brookshire at 573-629-3170, or via email at sabrina.brookshire@hlg.edu.