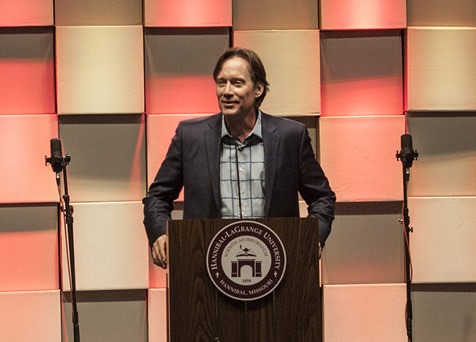 by Carolyn Carpenter
Early evening, drizzly conditions did not stop the more than five hundred guests from attending Hannibal-LaGrange University's 74th Annual Booster Banquet featuring guest speaker, actor, director, and author, Kevin Sorbo.
The topic of Sorbo's keynote address was faith, freedom, and hope. He began with his own story, stating, "I was a broken man. But I have been revived, redeemed, and most certainly I have been reborn. I have been reborn through faith and the hope that comes from that faith."
Sorbo's personal testimony included the story of his battle back from three strokes in 1997 and the background for his book "True Strength." He shared his journey from playing Hercules, the strongest man in the world, to his realization that he was just a mere mortal and how nearly dying saved his life.
"When those strokes hit me, I went from what I thought was a physical specimen to a guy who couldn't even stand up without falling down. My life changed forever in the snap of a finger, or the crack of a neck, in my case. This is where faith and hope come in." Sorbo went on to tell about how he spent the next several months learning how to balance and walk again. "Talk about being tough on the ego," he stated with honesty in his voice. He told about how going to physical therapy wiped him out and how for the first time in five years he started watching TV again. He wanted to escape the thoughts of his uselessness and hopelessness that was running through his mind. He discovered sitcoms like "Friends" and "Mad About You" and they made him laugh. "Laughter truly is the best medicine," he stated.
The medical community didn't offer him any hope. They couldn't definitely say the cracking of the neck caused the strokes. Which left Sorbo feeling like a walking time bomb. "That's when the panic and anxiety attacks hit me," he said. "And let me tell you, they're not fun." The doctors said the best he could hope for is however he was feeling and doing in 3-8 months was the best he could hope for.
Sam, now his wife, then fiance, would push him as far as he could go. He couldn't read, couldn't golf, had tremendous headaches and nausea. He had a constant sensation of feeling like he was falling backwards. He stated that he was much quicker to anger. After four months, both he and the producers of "Hercules" wanted to get back to shooting the show. "Work was all I really knew and I loved it. I needed it." [Going back] gave me hope. It gave me this light at the end of a very long, dark tunnel." He explained how at first he could only work for an hour and how the writers wrote around him and how much he could do. "Anything to keep the show alive," he said. After about eight months he was able to work about five hours a day. "This is when I told myself, 'there is no way I'm going to live my life like this… I've got to push myself harder,' so I prayed," he said. He prayed a lot. He had long talks with a God who seemed "cruel and capricious to me," he said. "We had some good arguments. God and I, we wrestled a lot. By the way, He wins every time when you wrestle him. He's got a great take-down move," he said with a laugh. "He will win every time."
Sorbo went on to say how he also lost a lot of arguments with his wife, Sam. She told him that God "tapped my shoulder to slow me down." Through the three tiny blood clots, God changed Sorbo's life. The doctors said it was a miracle that he even survived let alone have any type of recovery. "It seems like a miracle actually. But sometimes life is just that. I think we have miracles every day. People just don't pay attention to them," Sorbo stated. Sam was his biggest champion. She had faith when he didn't. She lifted, pushed, and encouraged him when he couldn't go any further. "She saw recovery in me when I couldn't. She had faith in a loving Creator when mine faltered… You see, I had a faith. I've always had faith. I just never needed it… until I was hit with this incredible challenge. That confirmation of faith came with my hope of a future."
"When bad things happen we have to learn that it is for a reason and we have to find that acceptance and why these bad things can happen," Sorbo stated with emotion. He continued explaining how many choose to play the blame game. "We blame family. We blame friends. We blame everything in the world. We blame God." This, he explained, is the point of desperation and a breaking point. And this is when many people pray to God for help, to be healed. To be whole again. Sorbo reminded the guests that it was okay to pray to God when things are going well. "The power of prayer is pretty amazing," he said. "We need to be grateful for the many little things we have in our lives – the things we tend to take for granted."
In his final segment Sorbo noted the number of students entering into college today as Christians is far greater than the number of Christians coming out of the same university. "Why do parents not wake up and stop sending their kids to these universities? I just don't get it," he stated with enthusiasm. He went on to say, "Hope – it is the Christian message, is it not? Christ came to set the captives free. To give us all hope. To adopt us all into his loving arms. And this is the message of Hannibal-LaGrange University, is it not? It is hope. Because what is education? Why do parents want to put their kids into a university like this? Why do they want to spend their money the best education that money can buy? They are purchasing hope for their children. An education is their future. And their future should be hopeful…If you desire your children to have hope give them the freedom to have faith in our Christian God by choosing a Christian education for your children. You are giving them at least a fighting chance to grasp their faith, to claim a moral standing, and to become people that we all can admire."
In addition, those in attendance at the banquet also had the opportunity to hear a testimony from HLGU student, Ashley Neeley.
"The community of HLG has really impacted my life. Not just on campus but off campus… Dr. Albee is my Sunday School Teacher, Sarah Rapp is my personal mentor, and I know I can go to any of the staff members with any question I may have regarding God's Word or any personal issues which has definitely made my Walk with Christ so much deeper and more meaningful than I ever would have expected."
Following Ashley's testimony, Chamber Choir, one of HLGU's traveling ministry teams, performed three songs.
All in all, an enjoyable evening was had by all in attendance. For more information about HLGU's annual Booster Banquet please contact Director of Alumni Services and Institutional Advancement, Lauren Youse at 573.629.3126 or via email at lauren.youse@hlg.edu.
Hannibal-LaGrange University is a four-year Christian university fully accredited by the Higher Learning Commission of the North Central Association of Colleges and Schools and prides itself in its traditional and nontraditional educational experience in a distinctively Christian environment.