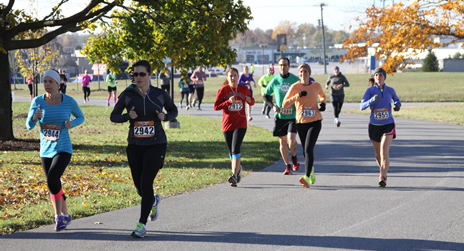 The 2015 HLGU Trojan Trek, held on Saturday, November 7, was once again a success. The 90 participants enjoyed the beautiful running weather as they trekked through the HLGU campus, residential streets, and a beautiful nature trail. Runners came from surrounding communities across the tri-state area.
The Trojan Trek 5k and 10k run/walk and Kid's Fun Run are annual events that benefit HLGU missions. Overall male and female winners for the Trojan Trek 5k were Julio Juarez (18:04), and Mallory Bauman (21:14). In the alumni category, overall awards were given to Matt Wright (18:19), and Erin Wright (24:16). Overall masters awards for 5k runners age 40 and up went to Jerry Daniels III (22:53), and Diana Baumann (27:06).
Overall male and female awards for the 10k went to Ryan Humphreys (41:35), and Corrie Reeter (50:19). In the alumni category, awards went to Ben Strother (51:14), and Janelle Strother (54:20). Overall masters awards for the 10k race went to Mike Walker (46:58), and Martha Nall (58:20).
The top two runners in each age group received medals, sponsored by Hannibal Regional Medical Group. Children who participated in the non-competitive fun run each received a ribbon. For a full list of awards, click the link above. Awards were once again generously sponsored by Hannibal Regional Healthcare System.
Additional sponsors for this year's Trojan Trek were Northeast Missouri Imaging Associates, Printex, Park Place Sign Systems Inc., and HLGU's Phi Beta Delta men's service fraternity. Other event sponsors included General Mills, Culligan, Big River Pest Control, KHQA, and the HLGU Cross Country Team.
Lauren Youse '05, director of alumni services and development was very pleased with this year's race. "Once again, we had great race. I'm thankful to our 2015 Trojan Trek sponsors for their support. This very special event is only successful because of the hard work and efforts of so many."
The Trojan Trek is a fundraising event that helps defray the costs of local mission work and community outreach for HLGU students. HLGU has been nationally recognized and awarded for the mission emphasis of the University. Students have opportunities each semester break (fall, Christmas, spring, and summer) to participate in missions or service projects locally, nationally, and internationally. The money raised from the Trojan Trek helps to offset student fundraising endeavors.
For more information on HLGU Missions or the Trojan Trek, contact Meri Allen at 573-629-3099 or via email at mallen@hlg.edu.