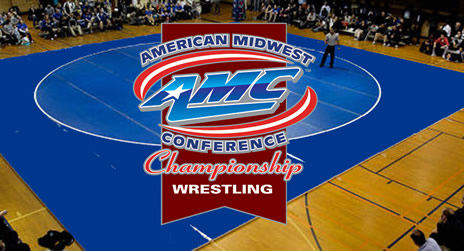 by Jason Farr
Hannibal-LaGrange University is honored to announce it has been chosen to host the first ever American Midwest Conference Wrestling Tournament. This new event will be held on Saturday, February 6, 2016, in the Mabee Sports Complex. Admission for the event will be $8 for an adult all-day pass and $5 for children/students. For those only interested in the finals, adults may purchase tickets for $5 and children/students $3.
The six wrestling teams participating in the tournament, Hannibal-LaGrange, Lindenwood – Belleville, Lyon, Missouri Baptist, Central Baptist, and Williams Baptist, are allowed to bring up to 24 wrestlers each with 12 of those wrestlers allowed to score team points. The competitors will be competing on three mats that will be spread throughout the complex. The 3rd through 5th place matches will start at approximately 3 pm while the championship matches will begin around 6 pm.
HLGU Head Wrestling Coach Scott Hawes stated, "I'm looking forward to the honor of hosting the first AMC tournament here in Hannibal, "America's Hometown". The AMC Wrestling Championship will bring us an exciting day of wrestling which will showcase many wrestlers who will be contending for NAIA All-American honors and quite possibly a national championship. Serious wrestling fans from the area will not want to miss this championship!"
HLGU Athletic Director Jason Nichols added, "I'm looking forward hosting the first annual AMC wrestling tournament. We're making preparations to what we hope will be a great competitive tournament that will bring exposure to the sport of wrestling in the AMC."
Additionally, HLGU will be broadcasting the tournament live via Stretch Internet. A link to the live feed can be found at www.hlgtrojans.com. All statistical information during the tournament will be kept live through Track Wrestling.
Hannibal-LaGrange University is a four-year Christian university fully accredited by the Higher Learning Commission of the North Central Association of Colleges and Schools and prides itself in its traditional and nontraditional educational experience in a distinctively Christian environment.
A PDF Document about the tournament can be found here.