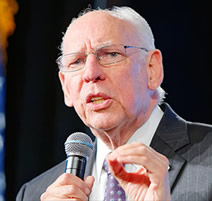 by Carolyn Carpenter
Pastor Rafael Cruz, father of Republican Presidential candidate and United States Senator Ted Cruz, will be speaking at two events in Hannibal, Missouri early next week. The public is invited to attend these free events being held on Sunday, March 13 at 7:00 pm at Becky's Old Fashioned Ice Cream Parlor & Emporium, 318 Main Street; and on Monday, March 14 at 10:00 am in the Roland Fine Art Center's Parker Theatre on the campus of Hannibal-LaGrange University, 2800 Palmyra Road.
Rafael Cruz is a powerful example of the American Dream. Born in Cuba, Rafael lived and suffered under an oppressive dictator. He began fighting Batista's regime as a teenager, and was imprisoned and tortured simply because he wanted to be free. Today, Pastor Cruz travels the country sharing his story and speaking on the Biblical foundations of our nation. It is his passion to encourage Christians in what can be done to return our nation to the principles that made America exceptional. Rafael is an ordained minister and the director of Grace for America, sharing the Word of God in churches and at pastors' conferences throughout the United States.
Pastor Cruz is traveling our nation, speaking on the importance of religious liberties and freedom. Those in attendance will hear Rafael's story about growing up under a dictator and why young people in Cuba were attracted to this form of government. Cruz will also speak about his son, Ted, his current campaign for Presidency, as well as his love for Christ, the United States, and how America needs to build a solid foundation.