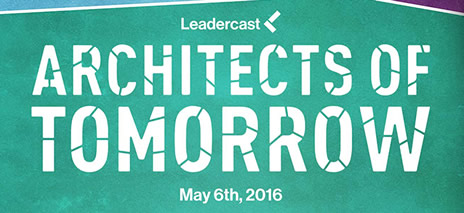 Click here to view a promotional video!
Leadercast is the world's largest one-day leadership conference, broadcast LIVE from Atlanta and simulcast to hundreds of locations around the world on May 6, 2016. This year marks the 16th year of the annual leadership conference and the third year that Hannibal-LaGrange University and Hannibal Regional Healthcare Systems will be at hosting the event at HLGU's Roland Fine Arts Center. Event day registration will begin at 7:30 am with the conference starting at 8:00 am.
The theme of this year's conference is, "Architects of Tomorrow," focusing on visionary leaders who imagine and build a future that is rich in innovation and collaboration and full of hope, a future where problems are solved, questions are answered, and confusion gives way to clarity.
The conference will equip attendees to create their own visionary path. Key speakers – visionaries in their own fields – will inspire the more than 100 people who attend locally, and the more than 100,000 people who will attend the event live in Atlanta or at hundreds of other simulcast locations in more than 20 countries. Among the keynote speakers are:
Kat Cole – Group President, FOCUS Brands, Inc. (including Cinnabon®, Moe's Southwest Grill®, Auntie Anne's®, and more)
Steve Wozniak – Co-founder of Apple, Inc.,
Henry Cloud – Acclaimed Leadership Expert, Clinical Psychologist, and Best-Selling Author
Nick Saban – Head Football Coach, The University of Alabama
Andy Stanley – Leadership Author and Communicator
James Brown – Network Broadcaster, CBS Sports and News
Rorke Denver – Navy SEAL Commander and Author
Chris Barez-Brown – Author and Creativity Guru
Tripp Crosby – Host of Leadercast, Comedian and Director
For years, Leadercast has brought people together and equipped them to become better leaders, managers, community members, and employees. Here is what people have to say about Leadercast:
"We believe strongly that the development of well-equipped regional leaders is an essential ingredient in pursuing our vision of a healthier and more vital northeast Missouri. We are very pleased to be working with HLGU to bring this incredible line-up of leadership and inspiration to our region," remarked C. Todd Ahrens, President and CEO of Hannibal Regional Healthcare System.
"It is one of the single most consolidated sources of leadership that I know of," said Youse. "But it goes beyond that. I think this conference, although very focused on leadership, transcends the topic and really shows you how to lead in life."
"Leadercast is something that anyone from education to management can benefit from and should attend. We are all leaders in some way and should continue to seek guidance on improving ourselves. I believe we should bring our entire office. I'm looking forward to Leadercast 2016," Bob Pollard, director of client services, Benson Financial Group.
Online registration is now open. The early registration fee of $60 includes the live broadcast of renowned speakers from around the world, leadership reference materials, snacks, and hot lunch. Registration fee increases to $65 as of Monday, April 28. Groups of 10 or more received a discounted rate of $50 per person and must call Lauren Youse, HLGU Alumni Director at 573.629.3126 to receive the group rate. To reserve your seat, go to www.hlg.edu/leadercast, or call Lauren.