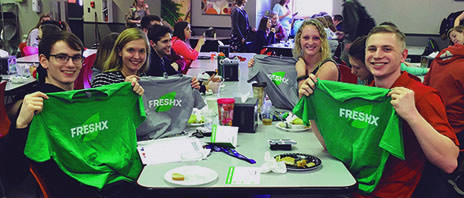 Waiting in line for food and paying with a card will soon be a thing of the past at Hannibal-LaGrange University. The campus' dining services operator, Fresh Ideas, has partnered with Lucova, a leading technology company in the higher education segment, to bring speed, convenience, and personalization to students, staff, and faculty–all under one app.
Unlike other mobile ordering apps, which only focus on ordering ahead, FreshX also allows users to make onsite purchases. The app, which is customized for HLGU, is free and available for both iOS and Android.
Upon downloading the app, users are asked to add a selfie and load a payment card, such as a meal card or major credit card. To order ahead, they simply browse the menu through the app and place their order from anywhere. Once the order is ready they'll get a notification to pick-up their food from the Fireside Cafe or the Sub Shop. For those who prefer to visit the dining hall, the hands free payment option simplifies the onsite checkout process.
Even more important than the transaction, food service staff are equipped with information, such as a user's face and name, enabling them to have personal interactions with customers, creating a truly "home away from home" experience.
Founded in 2000, Fresh Ideas is a dynamic food service management company headquartered in Columbia, Missouri. Fresh Ideas provides food service management solutions for K-12, higher education, and commercial markets in Missouri, Arkansas, Kansas, Nebraska, and Kentucky. For more information, visit www.freshideasfood.com.
Lucova's proprietary Bluetooth technology helps medium and large businesses, looking to optimize their in-store experience, become mobile ready quickly. Lucova offers a comprehensive suite of white label products including mobile order and pay, loyalty and rewards, and real-time customer insights, which are proven to drive in-store traffic, grow sales, and increase customer loyalty. For more information, visit www.lucova.com.