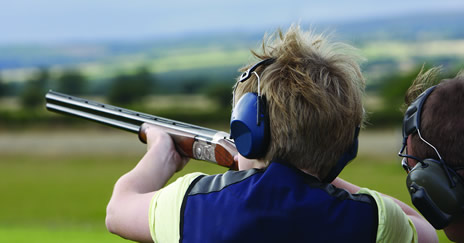 by Rebecca Sneed
Hannibal-LaGrange University's newest coed athletic team, shotgun sports, will be holding a tryout for the program's inaugural year on Sunday, July 10, beginning at 1:30pm at Ka-Tonka Game Preserve and Sporting Clays in New London, MO.
Those invited to attend are 2016 high school graduates and upcoming 2017 high school graduates along with current HLGU students and incoming transfer students.
Tryouts will consist of 50 trap and 25 five stand. Targets will be paid for by the University, however tryout attendees must bring ammo. Tryout spots are limited to 25 students, and shotgun sports scholarships are available.
The University has been studying the popularity of the sport and watching it grow in recent years. Because competitive shooting is a sport in which many can participate, this program seeks to further increase public awareness of shooting sports and firearm safety for youth among both males and females.
HLGU Athletic Director Jason Nichols cited both the quality and quantity of the students in the community and region as major factors for launching the program. "I am convinced that we will be able to obtain quality student-athletes from the surrounding region. Hunting and recreational firearm use is prevalent in the Midwest, and now HLGU offers a scholarship opportunity for students to continue shooting competitively while they pursue a degree."
"We're very excited about the opportunity to have a shooting sport here at Hannibal-LaGrange University," said Dr. Anthony Allen, HLGU President. "Our board of trustees unanimously approved to move forward with this."
HLGU has received two grants to help offset start-up costs of the program. Four different organizations have helped HLGU develop this new program: ACUI (Association of College Unions International), NSSF (National Shooting Sports Foundation), the NRA (National Rifle Association) Foundation, and the Midway USA Foundation.
For more information, or to reserve a spot for the tryout, contact Nathan Hammock, coach, by July 8, at 573-629-3059, or via email at nathan.hammock@hlg.edu.