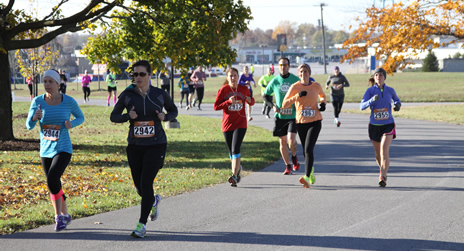 by Rebecca Sneed
HLGU's annual Trojan Trek will be held on Saturday, October 1, 2016. Sponsored by HLGU's Cross Country and Track & Field teams, the 5k Run/Walk begins at 9 am at the Roland Fine Arts Center.
The Trojan Trek course weaves through the HLGU campus, along a couple of city streets, and through the beautiful nature trail, introducing the runners to some of Hannibal's hills. Runners will then pass through HLGU's iconic Arch as they hit the home stretch to the start/finish line.
Plaques will be given to the overall male and female, overall male and female HLGU alumni, and overall male and female in the masters division, aged 60+. Additionally, the top two runners in each age group will receive medals.
This year, the Trek will be part of HLGU's annual Homecoming events. Proceeds from the event will help offset student expenses for the cross country and track and field teams.
HLGU's Cross Country and Track & Field teams are comprised of 30 athletes. During the 2015-16 school year, the teams were home to more than 15 all conference performers, some of which went on to be all conference champions. In 2016, Senior Kristen Garwood, who ran both cross country and indoor and outdoor track, made her 12th appearance at nationals and was the 2016 National Champion in the 5,000 meter race.
This athletic program produces more than champions though. The combined GPA for cross country athletes is 3.28 and for track and field is 3.37.
To register for the 2016 Trojan Trek, visit www.hlg.edu/trojantrek. The cost is $25 for adult racers, $15 for HLGU alumni, students, faculty, and staff, or $75 for families of five. All those registered before midnight on September 19, are guaranteed a t-shirt. On and after September 20, the registration fee increases to $30.
For more information regarding the Trojan Trek, click here, or email trojantrek@hlg.edu.