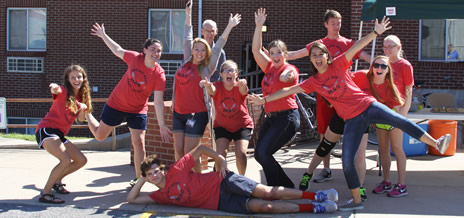 by Rebecca Sneed
Hannibal-LaGrange University's new students will be welcomed to campus on Thursday, August 25, from 10 am to 2 pm. As they drive onto the HLGU campus, first-time students will receive a "welcome home" from the president and first lady, Dr. and Mrs. Anthony Allen, at the main gate.
Next, the Trojan Army, a group of over 30 upper classmen, faculty, and staff responsible for moving all new students into their dorm rooms, will surround the vehicles to move students into their dorm rooms so parents and new students don't have to lift a finger. Offering words of encouragement, as well as a much-needed extra hand, the Trojan Army has become a staple of new student move-in day.
That same day, the annual Walk of Honor will be held at 5 pm following student and parent orientations. Faculty, staff, upperclassmen, alumni, and parents will line the walkway from the Roland Fine Arts Center to the Burt Administration Building. New students will walk single file as they pass parents and HLGU family cheering and encouraging them on their new journey. The students will pass through the HLGU arch where Dr. Allen, along with his wife Stacy, await to welcome them with a handshake.
Students will then gather around the Trinity Tree, located between the L.A. Foster Student Center and the Burt Administration Building, for a final word of encouragement and a prayer of dedication. Just as the students symbolically pass through the arch and into school, years later before their commencement ceremony, graduates walk back out of the arch, symbolizing their entrance into the world as educated adults.
HLGU Welcome Week and New Student Orientation are filled with exciting activities, such as the downtown scavenger hunt, Battle of Troy dodgeball match, an outdoor movie, worship services, HLGU Activities Fair, and dorm parties. These activities promote student interaction while helping to keep feelings of home-sickness at bay.
Monday morning, August 24, Hannibal residents will find HLGU students volunteering around town and putting in more than 400 hours of community service work.
A concert featuring the Grey Havens will be held Wednesday evening, August 31, from 7 to 10 pm at the Roland Fine Arts Center. Opening for the Grey havens will be Ryan Corn and HLGU's own Iron for Iron. Admission is free with a valid HLGU student ID, and $10 at the door for the public.
Fall 2016 classes begin on Tuesday, August 30.