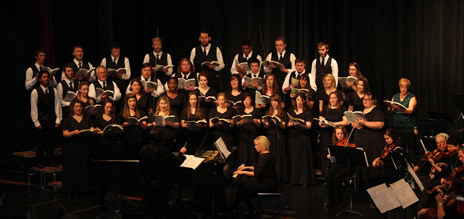 by Rebecca Sneed
The St. Charles County Symphony will once again hold a benefit concert for HLGU's Friends of the Arts program on Saturday, December 3, at 7 pm in the Parker Theatre. The evening will be filled with symphonic Christmas music, and an offering will be taken to support the arts at HLGU. Admission is free.
The mission of HLGU's Friends of the Arts is to ensure the proper resourcing of the fine arts division at Hannibal-LaGrange University in an effort to develop the heart of the student artist in such a way to prepare them for a lifetime of joyful and successful artistry.
As fine art programs grow at HLGU, so do the needs of the Roland Fine Arts Center. Through donations to Friends of the Arts, the University can continue to upgrade facilities, strengthen programs, and provide the resources needed to continue offering a state-of-the-art learning environment for students.
"The best way to communicate our love for God is through faithful devotion. The best way to communicate our worship is through the arts," said Brad Newbold, director of chapel worship and recruitment and development officer for fine arts. "By supporting Friends of the Arts, you will be contributing to the artists of the future; those who can change our world and our culture for the good. This is a mission of multiplication-giving to those who will then give to others who will then invest in others. What you give today could be felt for generations!"
By hosting a fun evening of symphonic Christmas music with the St. Charles County Symphony, Newbold hopes to show the community how important fine arts programs are.
Founded in 1997, the St. Charles County Symphony Society is a multi-faceted ensemble, performing classical and modern repertoire, chamber concerts, and a summer "POPS" series. They are a not for profit organization that often collaborates with outside artists and organizations to spread traditional and non-traditional music in the area.
The St. Charles County Symphony Society thrives under the leadership of co-artistic directors Kenneth Beckham and David Peek. Consisting of professional musicians, teachers, talented adults, and serious students from the St. Charles community, the symphony brings a rich combination of musical talents to St. Charles County.
For more information on the concert or Friends of the Arts, contact Brad Newbold at 573-629-3008, or via email at brad.newbold@hlg.edu. To learn more about the St. Charles County Symphony Society, visit www.scsymphony.us