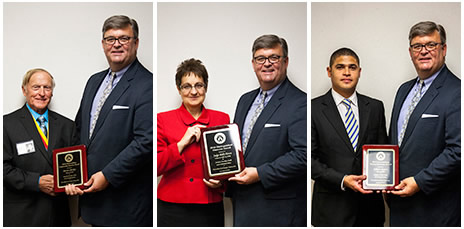 by Rebecca Sneed
Hannibal-LaGrange University recognized the annual alumni award winners during the 2016 Homecoming Entertainment on Friday, September 30. The three awards were given to Mervin Sharkey '63, Gilberto Romero Contreras '08, and Judge Holly J. Henze '81, '98.
Mervin Sharkey
The Outstanding Service Award was presented to Mervin Sharkey '63. This award is given to a Hannibal-LaGrange graduate who has given outstanding service to the University or their community through involvement in civic endeavors, religious leadership, or philanthropic efforts.
Born in Hannibal, Sharkey received his associate of arts degree from HLGU in 1963. He then went on to earn his bachelor's degree from Northeast Missouri State Teachers College in 1965, and a Master of Arts degree from Truman University in 1976.
Following graduation, Sharkey taught math in LaGrange, MO for four years. From 1969-1971 he served the US army in Vietnam. He then went on to teach math for one year at Fort Osage High School in Independence, MO, and for five years at Community R-VI in Laddonia, MO. For five years he served as head of the math department at Hannibal Public Schools before moving on to a guidance counselor position at Hannibal Middle School for 18 years. He has also taught at Moberly Area Community College and worked part time at Hannibal Council on Alcohol and Drug Abuse. In addition, HLGU is proud to have employed Sharkey as an adjunct instructor of math for 22 years.
Sharkey has three children and four grandchildren. He attends Cornerstone Baptist Church and is a member of Missouri State Teachers Association, and Missouri Council of Teachers of Mathematics.
He enjoys seeing students master their life goals, spending time with family, hearing from former students, gardening, and jogging or walking.
Gilberto Romero Contreras
The Outstanding Young Alumnus Award was presented to Gilberto Romero Contreras '08. This award is given to a Hannibal-LaGrange graduate, who is age 35 or younger, for outstanding accomplishments in their profession, business, community, state, or nation.
Born in San Pedro Sula, Honduras, Romero received his Bachelor of Arts in Accounting from HLGU in 2008.
Following graduation, Romero worked for two years as a staff accountant at Wade Stables P.C., Certified Public Accountants. In 2010 he transitioned to his current role as treasurer for Ayers Oil. Co. He also serves as treasurer and secretary for Ayers Oil Co.'s board of directors, is a board member at Illinois Ayers Oil Co., and a former board member at Salt River Community Health Center and Northeast MO Community Foundation.
This past summer, Romero organized a ten-year reunion of HLGU soccer players that brought 15 alumni and their families back to HLGU. Participants traveled from Argentina, Brazil, Chile, Spain, Honduras, Panama, and across the United States to attend.
Romero is married to Laura Lindsay Romero and together they have two girls, four-year-old Eva Sophia, and five-month-old Vivian Dean. He attends Fifth Street Baptist Church in Hannibal and enjoys playing and coaching soccer.
Judge Holly J. Henze
The Distinguished Alumnus Award was presented to Judge Holly J. Henze '81, '98. This award is presented to an HLGU graduate for significant and broad accomplishments in business or professional life, or for state or nation.
Born in Quincy, IL, and raised on a farm south of Lewiston, MO, Henze received her Associate of Science in Secretarial Science from Hannibal-LaGrange in 1981. She went on to work for 14 years as a legal secretary at three different law offices in Canton, MO and Quincy, IL before returning to HLGU to earn her Bachelor of Science in Organizational Management through HLGU's ADVANCE Degree Completion Program. She then worked for three years as a law clerk in Quincy while also working toward her Juris Doctorate, a degree she received in 2001 from University of Missouri-Columbia School of Law.
Since earning her JD, Henze has worked as an associate attorney at Schnack Law Offices for two years, Adams County Assistant Public Defender for nine years, a solo practitioner for the Law Office of Holly J. Henze for eight years, an adjunct professor of Business Law for HLGU's ADVANCE Program for three years, and Adams County Chief Public Defender for four years. In 2016, Henze was appointed Associate Judge for Adams County Circuit Court in Quincy, IL.
Henze's professional associations include being a member of the Adams County Bar Association, a former chairperson of the Criminal Law Committee of the Adams County Bar Association, a member of the Illinois Bar Association, a past member of the Illinois Council of Chief Public Defenders, a past member of the Missouri Bar Association, and a member of the Illinois Judges Association.
Holly is married to Darrell Henze, and they have two daughters, Kindra Henze, and Hilary Fessenden, a 2015 criminal justice graduate of HLGU's ADVANCE Program. Henze attends First Southern Baptist Church in Quincy, IL, and enjoys running and reading.