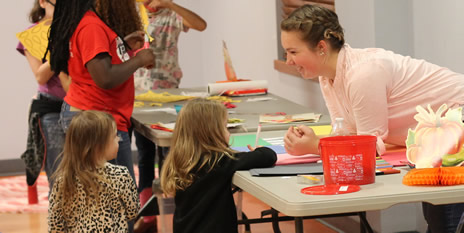 by Rebecca Sneed
Hannibal-LaGrange University Freshmen recently completed a class-wide service project demonstrating HLGU's motto, "Knowledge for Service."
Each year, HLGU Freshmen Seminar students complete a student-led community service project. This year, the freshmen partnered with the Andre Sheard Foundation to reach out to Hannibal Public Housing children, the children's families, and the elderly located along Munger Lane.
The students' project included a family fun festival involving approximately 140 HLGU students, 60 children, and 20 family members. They also gave out meals and hand-made blankets to 22 senior residents. They visited with, distributed gifts to, and held a devotion with approximately 70 senior residents at Beth Haven Terrace West and Willow Care Center. Additionally, the class donated over 750 children's books for a reading area in the Hannibal Manor Conference Room.
One representative from each of the Freshman Seminar classes was elected to the Freshman Seminar Council to lead their peers in successfully completing the various projects.
Each of the council members became "coin chasers" and collected spare change from HLGU students, faculty, and staff throughout the campus.
Because of their leadership and hours of service, each representative will receive the President's Volunteer Service Award (PVSA), a premier volunteer awards program.
Council members and recipients of the PVSA are Molly Briggs, Sarah Buehrer, Kristen Clawson, Tyler Shipley, Colin Smith, Breanna Springer, Sabrina Stewart, Gabrielle Wood, and Andre Sheard, director of the Andre Sheard Foundation.
For more information on the service project or PVSA, contact Dr. Karry Richardson, associate dean of academic and career services, at 573-629-3016, or via email at krichardson@hlg.edu.