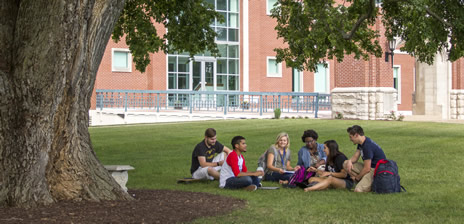 The spare change jar, it's a humble fixture in households across the country. Consider though, what if all those dusty pennies, nickels, dimes, and quarters were meant for something greater? What if spare change could change the world?
That's the idea behind MustardSeed, a new charitable giving app that makes it easy to support Hannibal-LaGrange University and its students.
MustardSeed works by rounding up users' credit and debit purchases to the nearest dollar and sending that change to HLGU. Think of the app like a Christmas bell-ringer collecting pocket change, but instead of waiting outside your favorite store, MustardSeed is waiting on your smartphone. All users need to do is live life – buy groceries, get gas, grab lunch with friends. There's no need to sign in or swipe your phone each time you make a purchase because MustardSeed is designed to make giving effortless.
The app sets up in moments, after which MustardSeed works automatically in the background, virtually rounding up each purchase and keeping a digital tab of the total. At the end of the month, MustardSeed deducts the sum of users' round-ups from their credit or checking account and sends it to HLGU.
Imagine a $1.25 coffee providing $0.75 to help fund student scholarships. A new T-shirt for $10.80 could send $0.20 toward new equipment for art, nursing, exercise science, and more. Then $35.55 of groceries could provide $0.45 to sending students on mission trips.
"We are very excited about MustardSeed," said Dr. Anthony Allen, HLGU President. "A few cents here and there may not seem like much, but when your gifts join thousands of others, you become part of something bigger – making a collective impact that empowers students to learn in an environment shaped and formed by faith so they can live lives that are shaped and formed by faith."
MustardSeed is free and available for download in Apple's App Store. Android users can access MustardSeed's web app through their phone's web browser; an Android version of the app will be available in the Google Play store in early 2017.
To learn more about MustardSeed, visit MustardSeedApp.org.M