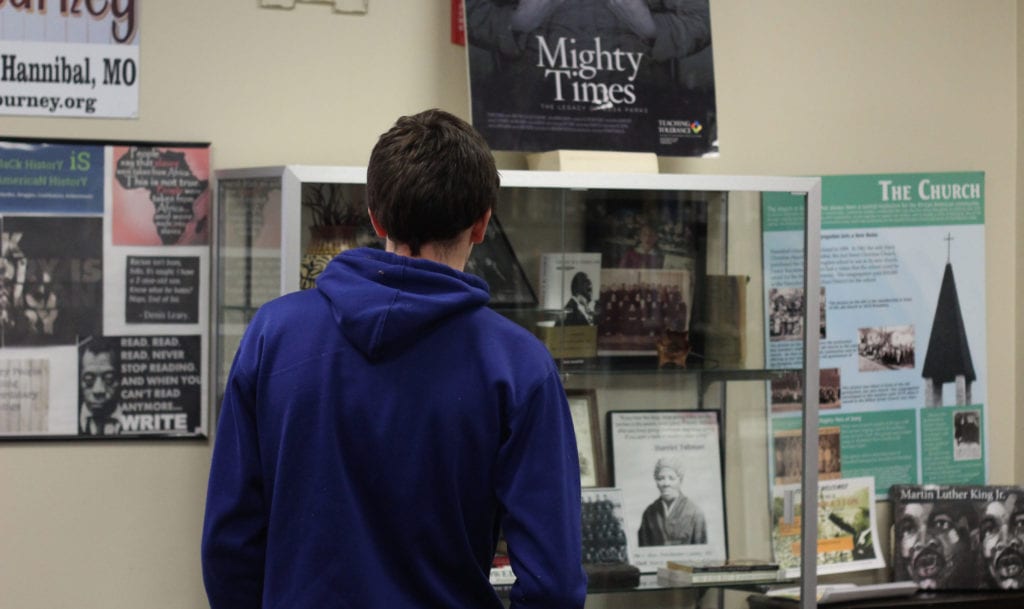 In celebration of Black History Month, HLGU's Roland Library is proud to have on display various pictures and artifacts regarding African American history. The display, with items on loan from Jim's Journey: The Huck Finn Freedom Center, will be open for the month of February.
The theme this year is "African American History is American History."   It features many quotes by famous African Americans such as Martin Luther King, Jr., Maya Angelou, and Rosa Parks as well as some library resources on African American history. It includes pictures of an African American Army Regiment, local church choirs, and a poster on Hannibal's African Church history. Featured on this poster are the gospel groups the Mighty Men of Song (1964), and Rosalie Porter and Lovearn Grant, singers who performed a weekly program on KHMO.
Also included is a recent donation from the family of Rev. Richard Smith with his Bible and a picture of him as a private in the U.S. Army from 1951. At that time, Rev. Smith was from New London, MO.
"We are very pleased to host this display, and greatly appreciate the Huck Finn Freedom Center for sharing it with our campus," stated Julie Andresen, HLGU Library Director. "It is important for us to remember our past, learn from our struggles, and celebrate our progress. This display reminds us of many positive contributions made by African Americans both locally and nationwide.  Thanks to Faye Dant for helping us to honor our culturally diverse history."
The community is welcome to view the exhibit during the normal operating hours of the Roland Library, Monday-Friday, 7:30 am to midnight, and Saturday, noon to 5 pm.
For more information on the exhibit, contact Faye Dant at 217-617-1507, or via email at fayedant@gmail.com.