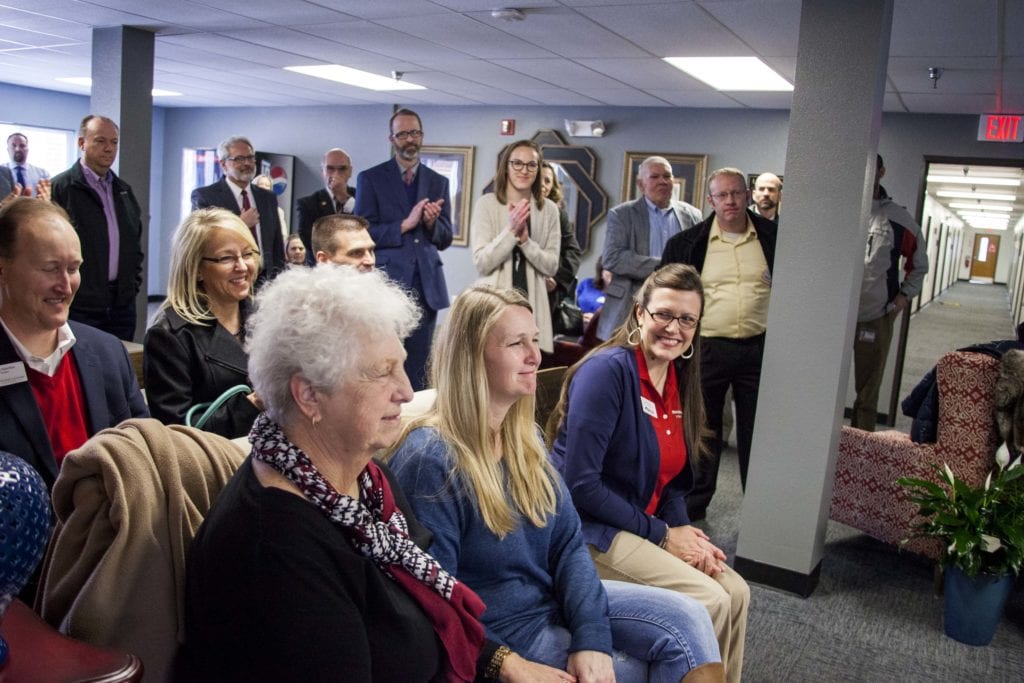 Hannibal-LaGrange University's Board of Trustees visited campus for their annual spring meeting Thursday and Friday, March 16 and 17.
One of the highlights of the two-day meeting was a special dedication of the new Sam Lomax Commons in the Lewis and Brown dorm. The ceremony honored Mr. Lomax's legacy, a long-time friend and supporter of the University. The board recognized Mrs. Judy Harding, a former trustee, for her generous gift to renovate the dorm lobby in his name. Judy's daughter, Paula, was also on hand for the dedication event.
Friday afternoon, the trustees addressed an important issue for students and voted to renovate Kleckner, a women's dorm that was built in 1962. Renovations will be funded by proceeds from a recent land sale and a six-month capital campaign led by the trustees was launched to finance the project.
The trustees also held an appreciation luncheon for the HLGU faculty and staff thanking them for the good work and service that they provide to the Lord and the University.
Additional highlights from the board meetings include the welcoming of six new board members, James (Jim) Arico, Bob Caldwell, Carey Casey, Tyler Foster, Randy Klocke, and Randy Sharpe, the promotion of eight deserving faculty members, work on HLGU's long term strategic plan, and more.
"I am very pleased with what the board accomplished for the University during the spring meeting. We have some wonderful opportunities before us, and I'm grateful for the vision that the Lord has given us. Together we are strengthening every area of the University's work and providing high-quality Christian education that integrates faith and learning," said Dr. Allen. "We have some exciting opportunities before us.  Together with the wonderful staff, faculty, and supportive trustees we continue to advance the mission of HLGU."
Glenn Miller, HLGU Board of Trustees Chairman stated, "As a board, I am pleased with our progress of becoming more and more engaged with the students, faculty, and staff. The appreciation luncheon was a wonderful event and the board's courageous decision to raise enough money to remodel Kleckner is a great step in the right direction. We will continue to engage the campus community to obtain more 'Knowledge' for better 'Service' to our University!"
The next trustees meeting will be held in October 2017. For more information, contact the president's office at 573-629-3252.