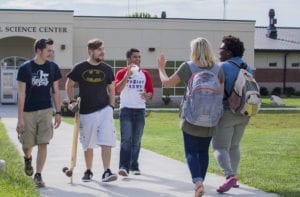 Hannibal-LaGrange University will be holding Early Enrollment Days for new students May 11 and May 25 from 9 am to 5 pm.  Additional dates will be available on June 8, July 13, and August 3 from 1 pm to 5 pm. Students that live more than 250 miles from Hannibal and are not able to attend a scheduled enrollment day, are asked to contact their admissions representative to discuss another option that is available to them.
New students who will be attending an enrollment day on campus will have the opportunity to meet their advisor, register for their first semester of classes, finalize financial aid, take care of unfinished business with student accounts, receive important information on housing and new student orientation, and get their photo ID and parking permit from public safety. The University Bookstore will also be open for the purchase of HLGU gear.
For more information, contact the office of admissions at 573-629-3265 or via email at admissions@hlg.edu.
Hannibal-LaGrange University is a four-year Christian university fully accredited by the Higher Learning Commission and prides itself in its traditional and nontraditional educational experience in a distinctively Christian environment.