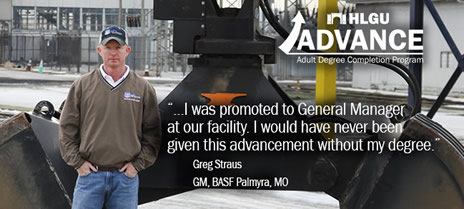 Hannibal-LaGrange University has announced the tuition for fall 2017 ADVANCE Program cohorts has been lowered by 29%.
"This proactive measure will help adults complete their bachelor degree through the ADVANCE Program," stated Marc Hurt, director of the HLGU ADVANCE Degree Completion Program. "Our ADVANCE Program has been offered at our Hannibal campus for over 22 years and at our other two satellite campuses in Sikeston and Poplar Bluff for over 14 years. What makes our program so attractive is the fact students can complete their degree in as little as 20-21 months,"
The HLGU ADVANCE Program allows working adults to attend class one night a week and one subject at a time over a five-week period. With an associate's degree or its equivalent, applicants have the opportunity to complete their degree in as little as 20-21 months. Students stay with the same group of adult learners, their cohort, throughout their degree program.
Depending on the type and number of hours the student has already completed at an accredited institution, he or she can earn their Bachelor of Science or Bachelor of Applied Science degree. HLGU's ADVANCE Program offers three degree completion programs, business management, criminal justice, and social services (Bachelor of Science only).
Which degree is best for you? The BAS program gives employees with technical training, or an AAS degree from post-secondary accredited institutions, new career options. Hannibal-LaGrange University is the only university in the tri-state area offering a BAS degree. Earning a BAS will provide an excellent foundation for those considering pursuing a master's degree.
Now, technically-educated adults can develop skills in leadership, communication, problem-solving, and other expertise areas necessary in management positions. No longer will the lack of a college education hold you back in job promotions.
For those who have earned an AS or AA degree, or equivalent general education hours, a Bachelor of Science degree will give the student the management skills needed for today's workforce. At the same time, it will provide a foundation for those considering pursuing a master's degree.
For more information about the ADVANCE Program, visit hlg.edu/advance.
Hannibal area contact:
Darcia Miller
573-629-3186 | dmiller@hlg.edu.
Please note: HLGU's ADVANCE Program offices have been moved to the first floor of the Burt Administration Building.
Poplar Bluff area contact:
 Donna Pirc
573-840-9470 | donna.pirc@hlg.edu.
Sikeston program contact:
Michelle Terrell
573-380-6542 |  email at michelle.terrell@hlg.edu.
by Carolyn Carpenter