HLGU recently received the generous donation of a book collection from Mr. Nicolas Karakas of St. Louis, MO.
Son to parents who immigrated to the United States from Greece, Mr. Karakas is a successful businessman and respected philanthropist. Being generous has been a part of Karakas' life since an early age. In addition to giving back to his community and various institutions, Mr. Karakas is one of the founding members of the Hellenic Spirit Foundation in St. Louis. Currently he holds the title of chairman emeritus.
Due to his declining health and his desire for his collection to benefit a Missouri university, Mr. Karakas contacted Mike Backer, Missouri Colleges Fund president in search of a fitting university to donate the collection to. After receiving the information regarding the opportunity, Julie Andresen, HLGU Roland Library Director stated, "I was excited to add Hannibal-LaGrange University's name to the possible recipients of the collection. I am always interested in increasing our collection and was very interested in the art books. I am thankful Mr. Karakas chose HLGU to receive his collection."
The close to 3500 volume book collection includes a variety of subjects including art, history, politics, Christian theology,  ancient Greek period antiques, fundraising, public speaking and a wide range of other general topics. This donation brings Roland Library's collection to over 140,000 volumes.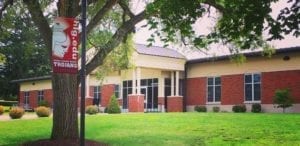 Hannibal-LaGrange University is a four-year Christian university fully accredited by the Higher Learning Commission and prides itself in its traditional and nontraditional educational experience in a distinctively Christian environment.