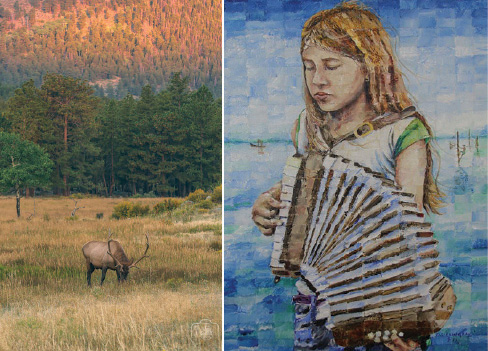 Hannibal-LaGrange University's Art Department is presenting an opening reception for guest alumni artists Casi Gray '08 and Neil Sneed '12 on Friday, October 6, at 6 pm in the Hagerman Art Gallery of the Roland Fine Arts Center.
The exhibit is on display now through October 13. The gallery will be open Monday through Friday, 9 am to 5 pm.
Casi Erin Gray, an Illinois native, works as fine artist, graphic designer and art instructor. She believes it is important for people of all ages to have a creative outlet, and is proud to be a part of her local art community.
Inspired by the beauty and details in everyday life, Gray acknowledges that her art will never compare to the magnificence of God's words, but hopes to portray that everything has a purpose and everyone has a story.
Photographer and videographer Neil Sneed grew up in St. Peters, MO, and found he had an eye for photography in high school when he would borrow his mom's digital camera and get creative with the photos he took. He then bought his first camera, a used, early-model Canon Rebel, and he began to see improvement in his skill.
Sneed graduated from HLGU in 2012 with a Bachelor of Science in Communication Arts and an emphasis in broadcast journalism. While at HLGU, he was afforded an opportunity to work with the International Mission Board in South Africa for a semester. He and other teammates would travel across Africa capturing the lives of other missionaries on video. It was this real-world experience, along with some of the hands-on teaching of his instructors, that challenged and developed Sneed's videography gift.
"God gave me a talent and I love being able to use it. I love telling people's stories, and I can do that through video and photos," Sneed said.
Today, Sneed works as a promotions producer for KHQA and runs his own photo and video business. His video work with the Hannibal Police Department and HEET Initiative (Heroine Enforcement Education Treatment) has been played throughout Missouri schools and in communities in the tri-state area. For more examples of his work, visit neilsneedphotovideo.com.
For more information on the exhibit, contact Michael Chlebanowski, art department chair, at 573-629-3176 or via email at mchlebanowski@hlg.edu.
by Rebecca Sneed '12