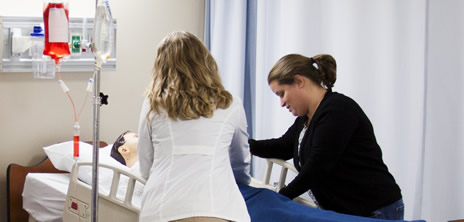 Hannibal-LaGrange University's 2017 nursing graduates top the state levels with a 97% pass rate on the National Council Licensure Examination for Registered Nurses (NCLEX-RN). Similarly, students in the practical nursing program received a 96% pass rate on the NCLEX-PN.
The NCLEX-RN and -PN are exams distributed by the National Council of State Boards of Nursing used to ensure and regulate that only competent and licensed nurses are practicing in the healthcare arena.
"I am very excited and proud of both the graduates and the nursing faculty for such an accomplishment," said Dr. Anne Riggs, Director of the Craigmiles School of Nursing.
"This is really great news for the HLGU nursing graduates and faculty!" said Gwenda Pollard, practical nursing coordinator. "This is certainly a reflection of the hard work and dedication that it takes to meet with this level of success."
This comes as exciting news to the nursing program, but this is not a first time achievement for them. Graduates of the Craigmiles School of Nursing regularly earn a high pass rate on their exams.
"I am extremely pleased with the news that our nursing students had a 97% pass rate on their boards.  This is the result of the hard work and dedication of our faculty in the nursing program," said Dr. Anthony Allen, HLGU President. "Congratulations to all!"
With a Missouri state average of a 93% pass rate for first-time exam takers and a national average of 88%, HLGU students easily top the list.
The nursing faculty is dedicated to the program's mission to achieve excellence in nursing education by maintaining high academic standards in a distinctively Christian environment. The program's curriculum and instructional processes reflect educational theory, interdisciplinary collaboration, research and best practices which prepare graduates to be successful on the NCLEX-RN and -PN and as practitioners.
Hannibal-LaGrange University's nursing program offers a practical nursing program, an Associate of Science in Nursing degree (ASN), PN to RN program, and BSN online completion program and is currently accepting applications for admission. Nurses have limitless job opportunities, competitive salaries, excellent benefits, and flexible hours.
For more information, contact Kathryn Martin, nursing admissions coordinator, at 573-629-3141 or via email at kathryn.martin@hlg.edu. To download an application, visit the website at hlg.edu. The program is fully accredited by the Accreditation Commission for Education in Nursing (ACEN).
by Rebecca Sneed '12