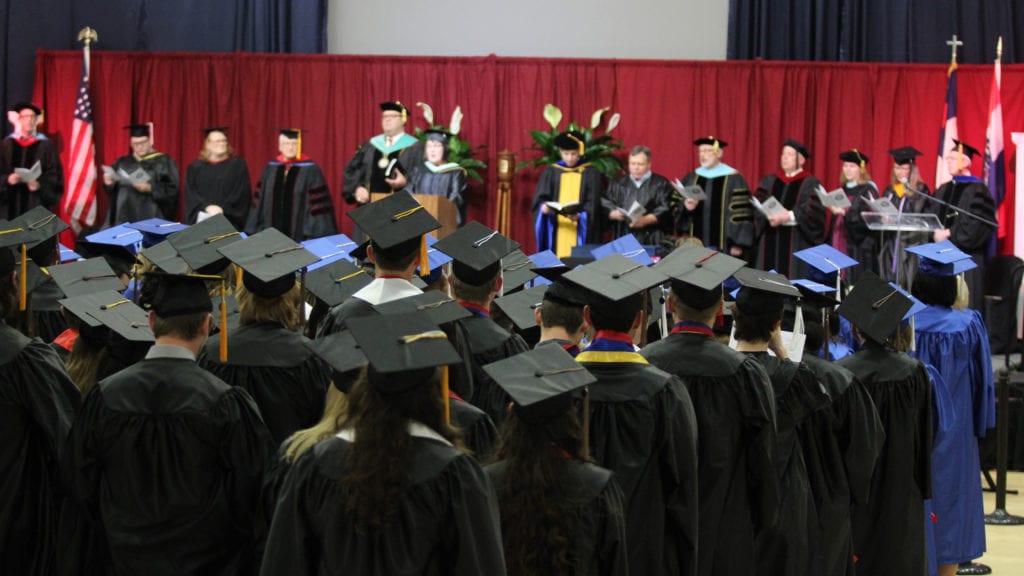 Hannibal-LaGrange University will hold its 2018 commencement ceremony at 10 am on Saturday, May 5, in the Mabee Sports Complex.  Approximately 200 graduate candidates are scheduled to receive degrees.
This year's commencement speaker will be Mr. Glenn Miller, founder and CEO of Miller Management Systems, LLC, which was founded in 2000 and has served over 2,500 ministries across 28 denominations by providing accounting and administrative services.
Miller is also a member of the HLGU Board of Trustees and currently serves as board treasurer, executive committee member, and chair of the presidential review committee.
Mr. Miller holds an MBA from the University of Missouri, KC and has distinguished himself as a leader in administration and management practices.  He has served as a manager and administrator for various churches and at Midwestern Baptist Theological Seminary and College. He also founded the Institute for Church Management in 2004, creating a ten course curriculum for improved church and non-profit administration.
Mr. Miller is co-author of three publications, Pastoral Helmsmanship, 2014, Confessions of a Church Felon, 2015, and A Pastor's Guide to Church Conflict, scheduled for release this year. He has also authored an article series in Renovate Magazine's Church Administration Corner. He has extensive volunteer service in churches and non-profit ministries and is in the dissertation defense phase of his DEdMin from Midwestern Baptist Theological Seminary.
Mr. Miller has previously taught management and finance courses at Sterling College, Avila University, and Baker University where he was a curriculum writer, peer reviewer and served on the faculty development committee. While at Baker University, he was winner of the 2002 Bob Campbell Outstanding Faculty Service Award, received an excellence in teaching certificate ten different years and received multiple perfect scores from course reviews.
Mr. Miller married his wife Kim in 1981, and together they have four children and four grandchildren.