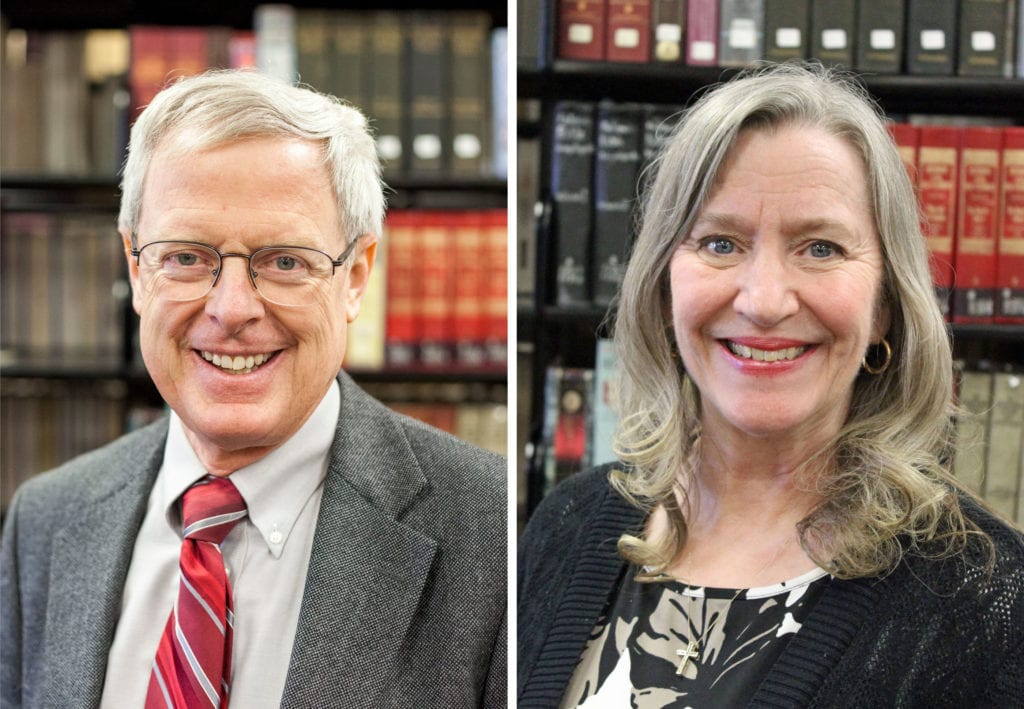 After a combined 60 years of full-time service to HLGU, Drs. Robert and Martha Bergen will be retiring at the end of summer 2018.
Their retirement was announced to HLGU's board of trustees on Friday, March, 16. At that time the board unanimously voted to grant the Bergens emeritus status.
The title of emeritus is bestowed upon someone as a recognition for special contribution to the institution and typically carries a continued relationship with HLGU. The Bergens will be afforded office space in the Carroll Missions Center for their use and continued scholarly work in their respective fields.
"One cannot think about the impact and history of Hannibal-LaGrange University without associating it with the Bergens who have given so many years of their lives in service to this institution," said Dr. Allen. "I look forward to their continued relationship with HLGU as both the Drs. Bergen become emeritus faculty."
The Bergens have been well-loved by those under their instruction. In their many years of service to HLGU, they have expertly and earnestly taught an estimated 7,500 students.
"Bob and Martha Bergen are exemplars of what it means to be faithful Christian faculty members," said Dr. Mullin. "Immensely talented, they devoted their lives to each other, their local church, and generations of students at Hannibal-LaGrange University. Many, many of those students are now faithful pastors, missionaries, teachers, nurses, business owners, husbands and wives, and moms and dads because they sat under the teaching and watched the example of Bob and Martha Bergen."
Dr. Robert Bergen is currently the associate dean of academic administration and distinguished professor of Old Testament and Hebrew.  He has also served as a Bible translator for three different Bibles: The New Living Translation, the New Living Translation 2.0, and the Holman Christian Standard Bible. He published commentaries on the biblical books of 1-2 Samuel in the New American Commentary series, the Holman Old Testament Commentary series, and the Shepherd's Notes series. In addition, he contributed the footnotes for some Old Testament books in the Apologetics Study Bible (Exodus, 1-2 Samuel) and the Holman Christian Study Bible (Genesis), and has written numerous articles and book chapters to various publications. He is currently under contract to write two additional commentaries on various books of the Old Testament.
Dr. Robert Bergen says his greatest interest is in knowing God better. He loves reading God's Word, especially in the Hebrew and Greek. He enjoys researching and writing about Biblical Hebrew discourse linguistics and writing commentaries on Old Testament books.
Dr. Martha Bergen is currently chair of the division of Christian studies, professor of Christian education, and director of ministry guidance. She received her bachelor's degree from Gardner-Webb University in Boiling Springs, NC, and her M. Div., M.R.E., and Ph.D. from Southwestern Baptist Theological Seminary in Fort Worth, TX.
Dr. Martha Bergen published a Bible commentary on the books of Ezra and Nehemiah in the Shepherd's Notes series and is a regular contributor of articles in the Biblical Illustrator magazine.  She has also published articles and chapters in various books and journals.  Dr. Bergen has received numerous awards and honors, including being inducted into Gardner-Webb University's Gallery of Distinguished Graduates, being elected to Who's Who in American Education, and Who's Who of American Women.  She, along with her husband, also served as visiting professors at the Canadian Southern Baptist Seminary during the fall 2016 academic term.
Both of the Bergens have received the Parkway Distinguished Professor Award from HLGU and the Trustees Award for Excellence in Service, presented by the HLGU Board of Trustees to celebrate their excellence in teaching and commitment to the University.
The Bergens are also both accomplished nature photographers. In their spare time, they enjoy capturing photos of God's incredible and intricate creation. Their work is currently on display in HLGU's Hagerman Art Gallery and can be viewed until March 28.
by Rebecca Sneed '12