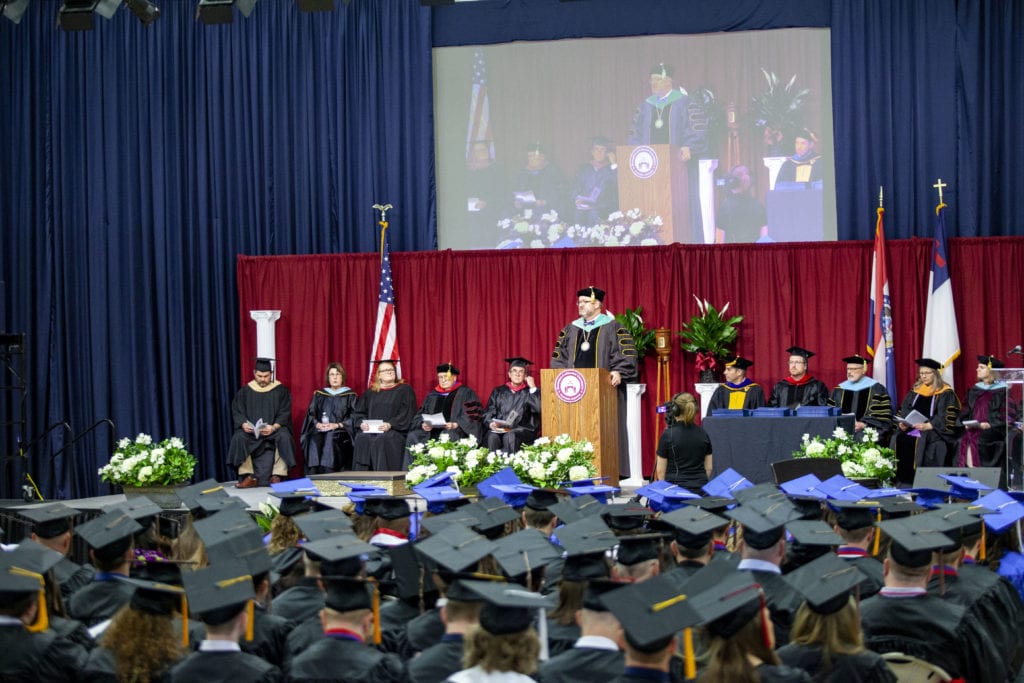 Beautiful weather reflected the bright spirits of more than 200 graduates as they walked across the stage in ceremonial regalia to shake the hand of Hannibal-LaGrange University President, Dr. Anthony Allen, and receive their diplomas on Saturday, May 4, HLGU's 150th commencement ceremony.
"The greatest joy I have as president is to see our students discover, develop, and demonstrate God's purpose for their lives," said Dr. Allen. "We want you to know today that no matter where you go or how high you fly, you will always be in our hearts, so remember your alma mater. We're proud of you."
The commencement address was given by Mr. Rich Bott, CEO and chairman of Bott Radio Network, a national leader in Christian talk radio, featuring Bible teaching, Christian news, and information programming 24/7.
Mr. Bott's address centered on challenging the graduates to discover what it is that the Lord has created them to do and to work at it with all their hearts.
"'Delight yourself in the Lord and He will give you the desires of your heart,'" he quoted from Psalm 37:4. Bott then went on to say, "Now that doesn't mean he's going to give you what you want, but it means delight yourself in the Lord and he will give you the desires for what he wants to give you, and so when you delight yourself in the Lord, you can follow your desires, if they're godly desires, and then find something that you really enjoy doing and that you're really fulfilled in doing, and do it as unto the Lord."
Mr. Bott also quoted 1 Corinthians 1:18, "For the preaching of the cross is to them that perish foolishness, but unto us which are saved, it is the power of God."
"Don't look to the world for your affirmation, your approval, and your applause," he explained, "they think what you're doing is foolish, but do it anyway, and do it in the power of God."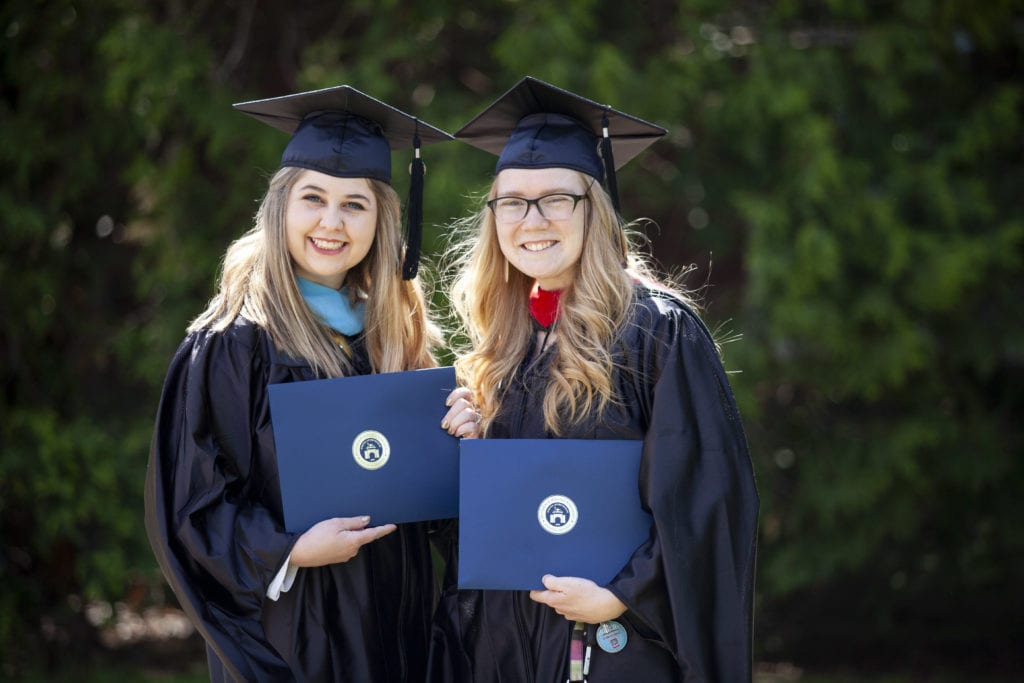 Following the presentation of graduates, Jill Alexander and Steven Hodge, selected Who's Who Among Seniors at HLGU, led the graduates in the graduate pledge and in giving a standing ovation to thank all friends and family for their support.
Also at commencement, the Parkway Distinguished Professor Award was presented to Mrs. Sabrina Brookshire. The award is given by Parkway Baptist Church in St. Louis, and selection is based on outstanding professional and personal contributions to Christian education.
Sabrina has served in a variety of roles across the University throughout her time here. Currently, she is the faculty sponsor and director of The New Edition, a traveling repertory troupe specializing in Christian theatre. The troupe leads creative worship in churches, conferences, and youth events, presenting challenging messages with a biblical foundation in a way that people clearly understand. The New Edition has performed across the United States and internationally and has the reputation of being one of the finest Christian college drama troupes in the nation.
Sabrina also oversees all the theatrical productions at HLGU, working with a diverse group of students and community members to produce high-quality plays and musicals.
In addition, HLGU also honors one staff member each year. The staff member of the year has been awarded since 2010. The selection process includes nominations by fellow staff members with a vote of affirmation by the administration. This year, the award went to Mrs. Dori Colborn.
Dori has worked for Hannibal-LaGrange University for four years as the payroll accountant, HR benefits coordinator, and employee Title IX coordinator. She also serves on the employee appreciation, employee experience, and graduation committees.
When nominating Dori for the award her colleagues said things about her such as, "Dori has a good attitude about the responsibilities she has been given," and "she is pleasant and easy to work with and a joy to be around."
Special music during the ceremony was presented by Kaitlynn Brown, Nanette Gorsett, Kailea Griffen, Romy Massey, Sara Perren, and Chair of the Music Department Mrs. Jane Griffen, and was accompanied by Angie Ferrell '17.
Prior to the ceremony, the graduates processed through the HLGU arch on the University's traditional Walk of Honor, symbolizing the end of their schooling and their entrance into the world as college graduates.
by Rebecca Sneed '12