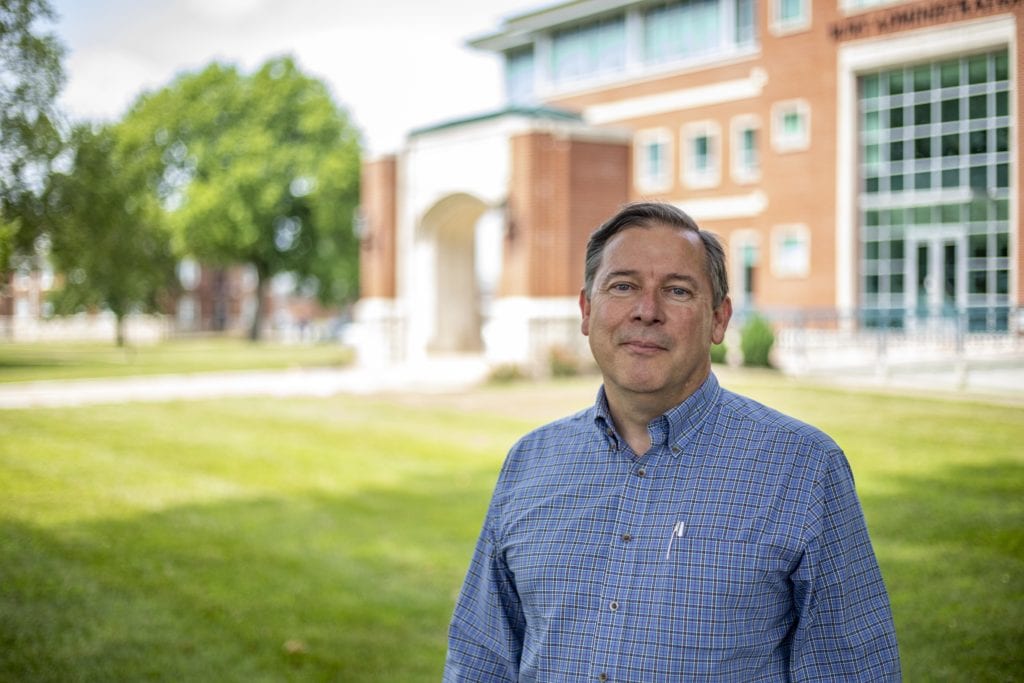 Hannibal-LaGrange University is pleased to announce that Louis Riggs will now serve as director of community engagement in addition to his current role as associate professor of English.
This position is designed to provide the HLGU campus and their students with maximum engagement with the surrounding area.
Mr. Riggs' newest role will help build a network of local, regional, statewide, and other resource partnerships to better promote the mission of the university by engaging with a wide variety of constituencies. As a lifelong resident of the Hannibal area and someone who has been active in a number of positions at the local and statewide levels, this new assignment is a natural fit.
"I will pursue new avenues of engagement between the HLGU community and our region in order to equip our students with more connections to the area," says Mr. Riggs. "This will add value to their experiences in such areas as workforce development and provide more opportunities for our area students to educate in place. I will also draw on the expertise of area individuals who have much to share with our young people in a number of ways that we have not explored before."
Louis Riggs' academic experiences include teaching English Composition and Argumentation, Writing for criminal justice majors, Business Law to traditional and adult learners, Introduction to Law School, and Organizational Communications as well as the capstone course for HLGU's online Master of Arts in Leadership program. He has also taught History of Leadership as well as U.S. History and Introduction to Political Science.
Mr. Riggs currently serves as Missouri 5th District State Representative and was named Freshman Legislator of the Year for Rural Workforce Development. He was also named a "Business Champion" by the Missouri Chamber of Commerce. Riggs is former president of Missouri Community Betterment, Inc., former president of the board of directors of the Missouri Humanities Council, the Hannibal Free Clinic and the Hannibal Nutrition Center. He also serves as a member of the Hannibal Park Board and Northeast Missouri Development Partnership.
Mr. Riggs says, "In law, I was able to affect one life at a time. As a professor at HLGU, I am able to share God's love and blessings with hundreds of students who are at various stages of their college careers. Now, as a state legislator, I can also share insights from the political world regarding policies that affect each one of us daily through the legislative process."
Contact Mr. Riggs about upcoming opportunities and collaborations by emailing him at lriggs@hlg.edu.