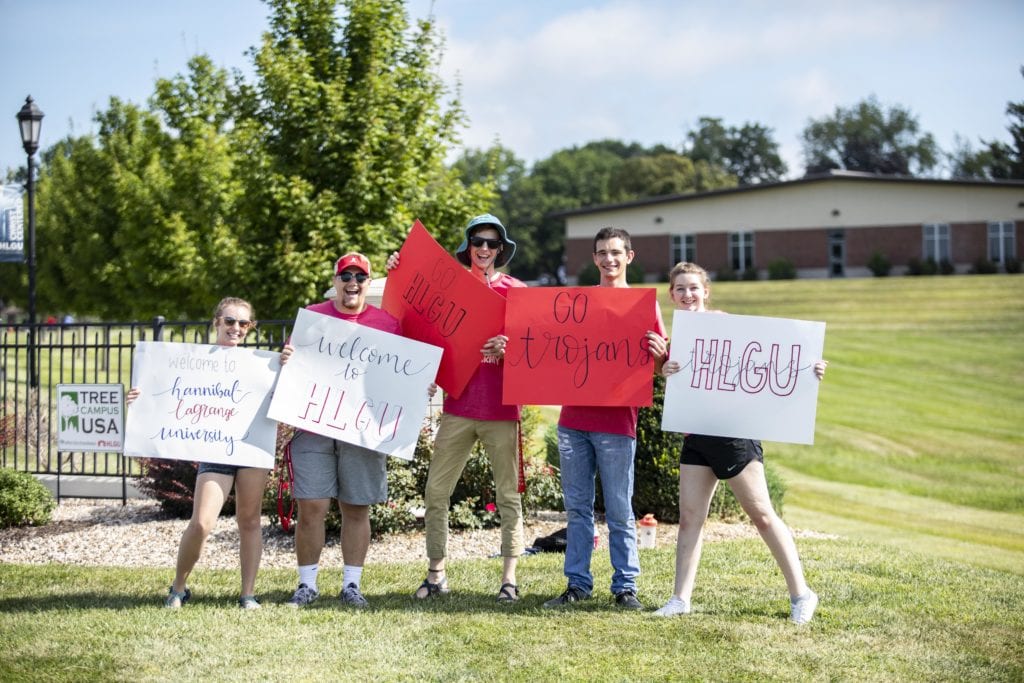 Hannibal-LaGrange University classes kicked off this week on Monday, August 19. Just over 1000 students will be enrolled this semester.
Wednesday morning, HLGU President Dr. Anthony Allen welcomed all students back to campus and to HLGU's annual Convocation Chapel, a special chapel event that opens the school year.
This year's Chapel service ended up being quite special when a city-wide power outage occurred just as the service was about to begin. It did not stop the leaders, however, from continuing on without a sound system or any stage lights. Only a few back-up generator lights lit the entire auditorium and enabled the service to continue.
During this Convocation Chapel, Dr. Miles Mullin II, vice president for academic administration, led the students in reciting HLGU's Honor Code, and Mr. John Francis led the congregation in an impromptu a cappella version of the hymn, "Shine on Us," a fitting selection to be sung during a power outage.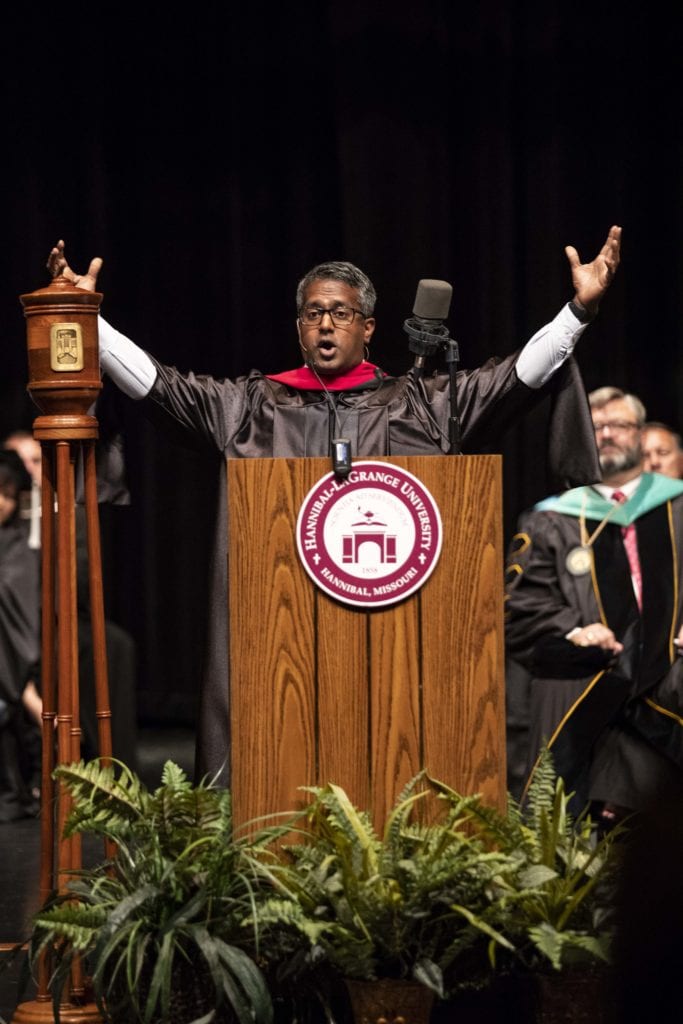 Following the song, guest speaker for the service Paul Masih took the stage. Masih is a native of India who graduated from HLGU in 2003. He and his family now live in northwest India where he serves as a pastor, working to spread the gospel and improve the lives of those living in slums in an area of the country where only 0.3 % of the population professes Christianity.
Masih delivered a powerful and convicting message on God being our ultimate satisfaction and fulfillment in life, putting Him above education, relationships, or anything else.
"There's water that will give you life, and there's water that will kill you. Where are you taking your thirst?" Masih questioned. He discussed how God is the Living Water and challenged the congregation to look to God for complete satisfaction.
Earlier in the week, those passing by HLGU on Thursday, August 15 likely witnessed the arrival of new students who were warmly greeted by Dr. Allen as they drove in the main entrance. From there, the new students were led to their residence halls where they were welcomed with music, cheers, and eager returning students – the Trojan Army – ready to serve the new students and their parents by unloading their cars and moving the students into their new homes.
The Trojan Army is an annual move-in tradition at HLGU and is always a tremendous blessing to new students and their parents. Their motto, "we move so you don't have to," fits their service well.
At 4:30 pm, parents, family, the Trojan Army, and resident advisors, along with faculty and staff of HLGU, lined the sidewalk from the Roland Fine Arts Center to the HLGU arch in preparation for the Walk of Honor.
A bagpiper led the new students along the path of cheering spectators, encouraging the students on their new journey. After each new student passed through the HLGU arch, President Allen welcomed them again with a handshake and a smile.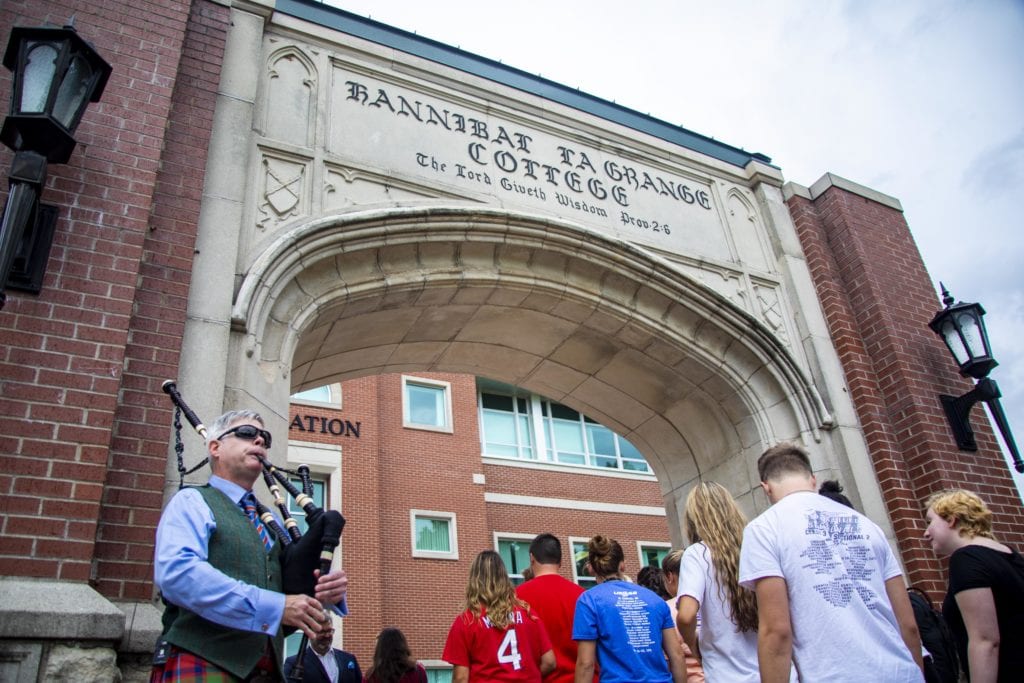 Students then gathered around the Trinity Tree, located between the L.A. Foster Student Center and the Burt Administration Building, for a final word of encouragement, the alma mater, and a prayer of dedication.
After a group dinner, all the students met in the Loft for a Student Center Social with ice cream and root beer floats. Then the students gathered in the Mabee Sports Complex for a final evening event, the Battle of Troy Dodgeball Match. This event drew a lot of excitement and involvement from the students as they participates or cheered for their team.
On Friday, the new students spent their morning in breakout sessions and their afternoon in an event called Meet Your Major. Groups of students gathered with faculty from their major to discuss what the degree programs look like.
Friday evening, a new student activity called the Trojan Wars began. This battle between dorms vying for points in organized games will last until Homecoming culminates on October 5.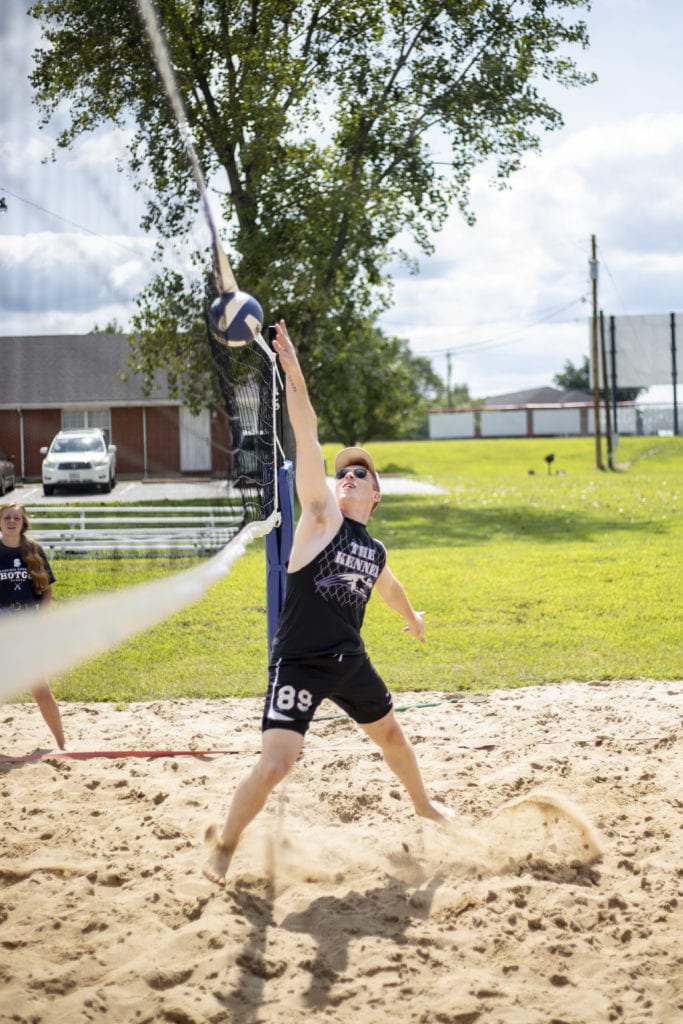 The New Student Orientation teams ventured to downtown Hannibal on Saturday morning for the annual scavenger hunt. This fun activity takes place on and around Main Street every year, giving new students the chance to learn about all that Hannibal has to offer. As they found their way around downtown with the help of resident assistant leaders, the students met Trojan Army members to receive each clue. This allowed the students to become familiar with the area, as well as the faces and names of returning some returning students.
Saturday also saw the different NSO groups being hosted by HLGU faculty and staff members for dinner, giving the students a glimpse of the strong bond of family and community they can receive at HLGU. The evening culminated in the campus theater with a fun game of Jeopardy. Each NSO team and their leaders participated on stage, competing against one another.
On Sunday, the students started their day by choosing an area worship service to attend. That afternoon and evening, students enjoyed visiting the HLGU Activities Fair. This special event allowed the new students to find out more about area churches, activities, and clubs they could choose to become involved with on and off campus.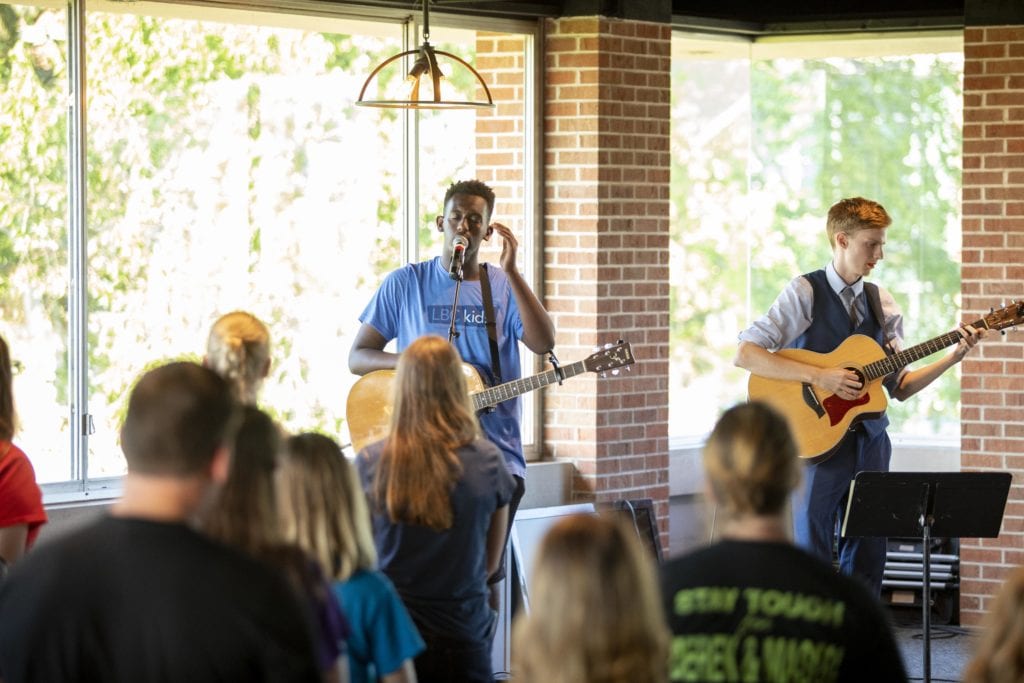 After ending the fair, everyone enjoyed a time of student-led musical worship and devotion led by Dr. Eric Turner, chair of the Christian studies division. The students then moved outdoors for a s'mores night on the patio with music and a bonfire.
Additional activities were held to welcome returning students back to campus during the first week of classes. Students participated in a game night, a skating and pancake night, and a sand volleyball tournament.
For more information about student activities at HLGU, contact Stephen Crain, director of student activities, at 573-629-3006, or via email at stephen.crain@hlg.edu.