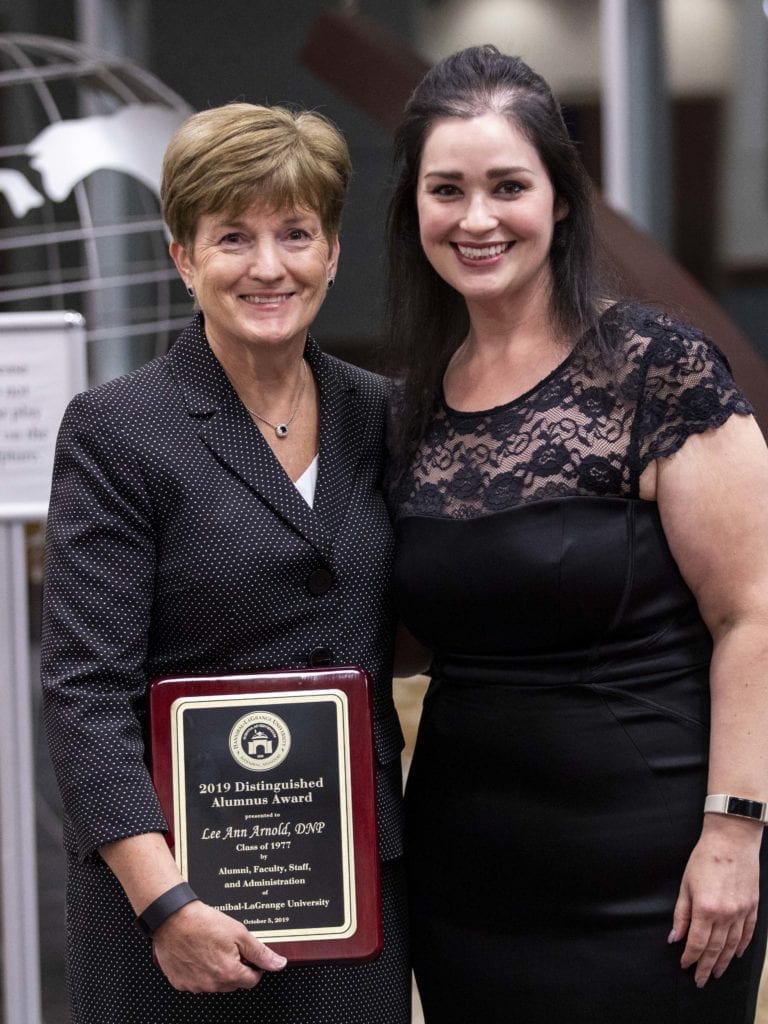 Hannibal-LaGrange University recognized the annual alumni award winners during the 2019 Homecoming Entertainment on Friday, October 4. The Distinguished Alumnus Award was presented to Lea Ann Arnold DNP '77. This award is presented to an HLGU graduate for significant and broad accomplishments in business or professional life, or for state or nation.
Born in Poplar Bluff, MO, Lea Ann received an associate degree from Hannibal-LaGrange in 1977. She went on to receive a BSN from William Jewell in 1980, an MSN from the University Illinois Chicago in 2009, and a DNP from St. Francis University in 2016.
She has worked full time in hospitals as a nurse. Her duties have included being a nurse on the unit, a nurse in critical care, middle management positions in oncology, neurology, emergency department, and case management, and has then transitioned to informatics in 2009-10. Today, Lea Ann is director of nursing informatics for Northwestern Medicine Healthcare, a system of ten hospitals in the Chicago area.
Like most nurses, when Lea Ann began her career she wasn't thinking about switching her focus down the line to health information technology, yet that's where she has found herself for the last ten years, serving healthcare staff and hospitals through the implementation toward a single-platform electronic medical record (EMR). Lea Ann has helped Northwestern Medicine to implement this software in seven of their ten hospitals, with the remaining three expected to go live in the next 6 months.
Lea Ann enjoys spending time with family, traveling, reading, and taking long walks. She is passionate about being a part of something bigger than herself; higher learning in order to share with others and make meaningful contributions to solve problems.
Lea Ann and her husband Craig live in Naperville, IL and attend Springbrook Community Church in Plainfield, IL. They have been married for 40 years and are proud parents of two sons Andrew (wife Megan) and granddaughter Brynn; and Alex (wife Samantha). Lea Ann is the daughter of Bob and Burlene Parker of Hannibal, MO.