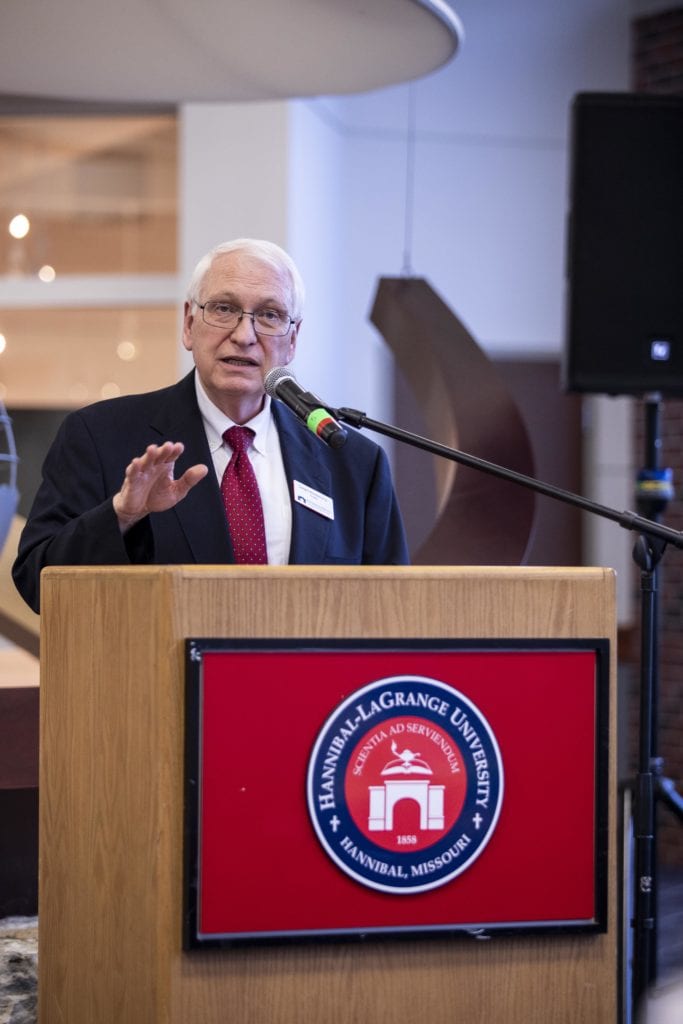 Hannibal-LaGrange University's Board of Trustees visited campus for their annual fall meeting Thursday and Friday, October 10 and 11.
"We had some really encouraging information to share with our board," said Dr. Anthony Allen, HLGU President. "We had a strong financial year. We need to work hard in enrollment and recruiting, but we're pleased to welcome Will Brantley to our staff as our new vice president for enrollment management and marketing."
While on campus, the board heard reports on the activities of the University over the last year. HLGU is now fundraising to begin a prison ministry program that will train long-term inmates to be chaplain assistants who will minister to and disciple other inmates.
Missouri State Representative Louis Riggs, who serves as the director of community engagement at HLGU, reported that the University has been invited to send five interns to the capitol in January 2020, and that there are many other community engagement opportunities coming for HLGU.
Additional reports included the following information:
Restructuring in residential life and dorm room assignments has led to a more community-minded campus.
Just under 50 students participated in HLGU-sponsored mission trips last year.
An initiative has begun to raise money for an elevator in the student center.
Following a wind storm, $225,000 of campus repairs were covered by insurance.
HLGU's Freshman Seminar class has been restructured to use a curriculum that embraces a strong Christian worldview.
A memorandum of understanding was signed with Moberly Area Community College to allow students to more seamlessly transfer to HLGU, particularly in the education department where elementary education is suffering a severe shortage of teachers.
HLGU received NAIA Champions of Character Gold Status for the third year, and Men's Basketball Coach Jason Durst received the AMC Coach of Character Award.
Following reports and committee meetings, the trustees voted to approve and affirm HLGU's strategic five-year plan, which will enable the University to function from an intentional and active place, and streamline decision-making. Trustees also voted to align the increase of tuition with the increase of scholarships.
"I'm really pleased that our board was able to approve and affirm our strategic long-range plan for the institution and we're excited about what that will mean as we move forward," commented Allen.
"I thought the meeting was very productive and that our trustees were engaged to the needs of the Hannibal-LaGrange family," said Dr. Dwight Blankenship, chairman of the board of trustees. "I believe with the reports we have received that the future of Hannibal-LaGrange is bright, and I ask that everyone in the Hannibal-LaGrange family just pray for the institution."
At the end of the meetings, new officers were nominated and approved. Tyler Foster will serve as chairman of the board, Mark Anderson will serve as vice chairman, Bobbie Crain as secretary, and Glenn Miller as treasurer.
"I'm very excited that I've been honored with this great assignment," said Tyler Foster. "It was bathed in prayer and was something that I did not take lightly. It's a very humbling experience to even be asked because it's such a unique opportunity and such a wonderful institution. It's going to be very exciting because we have many great days ahead."
Thursday night, trustees and administration gathered for an appreciation banquet organized by the president's office. Special music was provided by piano students Naro Longchar and Sarah Song. Additionally, trustees Sonia Vicars and Doug Hamilton were recognized for their excellent service to the University as they rotate off the board. Vicars served two five-year terms, and Hamilton served one five-year term.
The next trustees meeting will be held in March 2020. For more information, contact the president's office at 573-629-3252.
by Rebecca Sneed '12