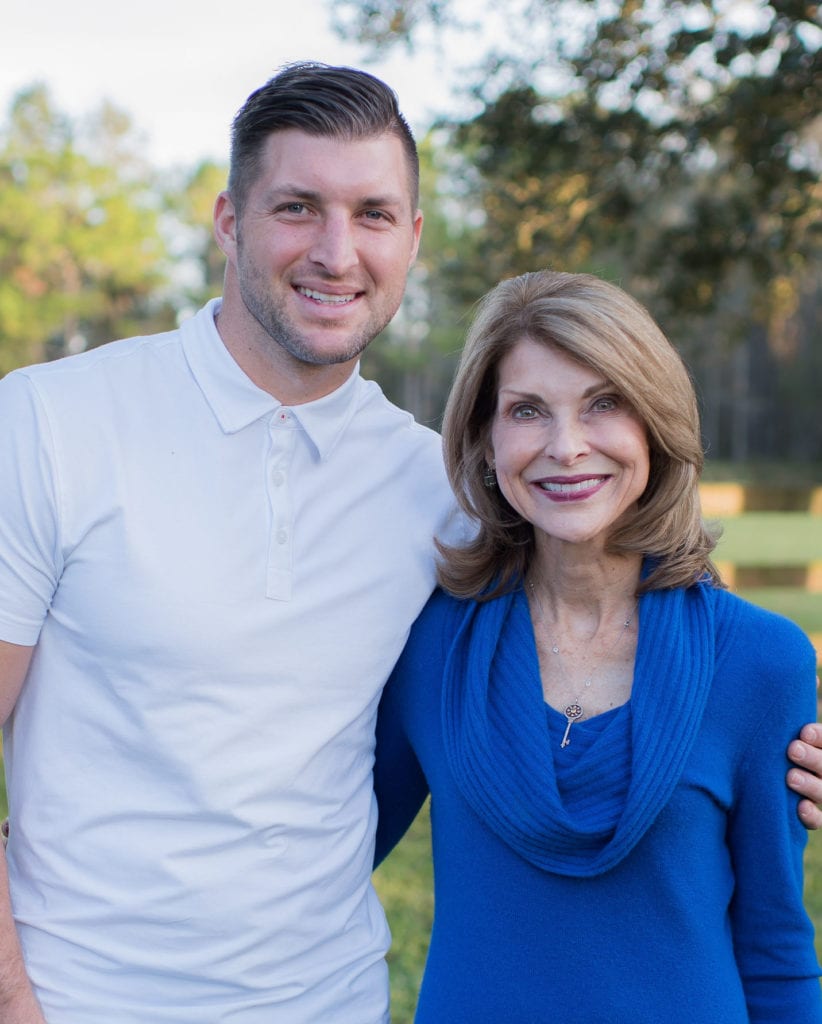 Ticket prices will soon be increasing for Hannibal-LaGrange University's 78th Annual Booster Banquet which will feature Pam Tebow as the keynote speaker. The banquet will be held Friday, November 22, at 7 pm.
Pam Tebow is the mother of Tim Tebow, famous NFL quarterback. Pam's notoriety increased when Tim, then quarterback for the Florida Gators, became the first sophomore to win the Heisman Trophy. During the nationally televised Heisman broadcast, ESPN aired a portion of an interview that focused on her refusal to abort Tim when she was advised to do so. She was given an instant national platform to encourage the prolife message.
The Booster Banquet is sponsored by HNB Bank and WGEM. Prices are as follows:
$50 General Admission Ticket – through Wednesday, November 6, 2019 – Includes banquet admission
$65 General Admission Ticket – on and after Thursday, November 7, 2019 – Includes banquet admission
$175* Executive Admission Ticket – Includes reserved parking, admission to a special private reception with Pam Tebow on November 22 from 5:30 pm to 6:30 pm, and a special reserved seat at the banquet. Attendees to the special private reception will receive a copy of Pam's new book, and be able to meet Pam and have a photo taken with her.
$1200* Sponsor a Round Table – Includes 8 executive tickets for a special price
Due to the limited amount of executive tickets, you must call the office of institutional advancement at 573.629.3124 to purchase them by credit card only.
Pam is passionate about encouraging people of all ages to trust the Lord with all their hearts for all their lives and use the incredible influence God has given them to eternally impact their world. This is the subject of her first book Ripple Effects, to be released Mother's Day 2019.
The daughter of an army colonel, Pam lived all over the world until she went to college at the University of Florida. She set out to gain influence by building an impressive college resume with a long list of accomplishments, only to discover the emptiness of exalting self. Through a series of what she calls "God stories," Pam discovered the joy of investing herself in the lives of those in her sphere of influence. Her college resume ultimately included graduating with honors in journalism and communications and the shaping of her passion for life-impacting influence.
Pam and her husband Bob met in college and have now been married for over 40 years. They have five children and eight grandchildren.
Known as homeschool pioneers, Bob and Pam began teaching their children at home in 1982 before the term "home school" had even been coined. Pam says that by God's grace, all five of their children were homeschooled from kindergarten through high school, and all five received college scholarships.
The Tebows lived for a number of years in the Philippines, where Bob continues to have an ongoing ministry, the Bob Tebow Evangelistic Association (BTEA). Through the BTEA and numerous mission trips, over one million people are professing their faith in Jesus Christ every year. The Tebows also have an orphanage in the Philippines and ongoing ministries in several semi-closed Asian countries.
Pam loves speaking for women's events, prolife, and other non-profit groups, and various events across the country. She has appeared on Good Morning America and other talk shows and won national awards, including Eagle Forum's Woman of the Year and Witness in the Public Square awards in 2012, the Commission for Women's Inspiring Woman of the Year award in 2013, Extraordinary Woman of the Year in 2015, and National Pro Life Recognition Award in 2017.
For more information, please contact Lauren Youse '05 M '16, director of alumni services and development, at 573.629.3126, or via email at lauren.youse@hlg.edu.