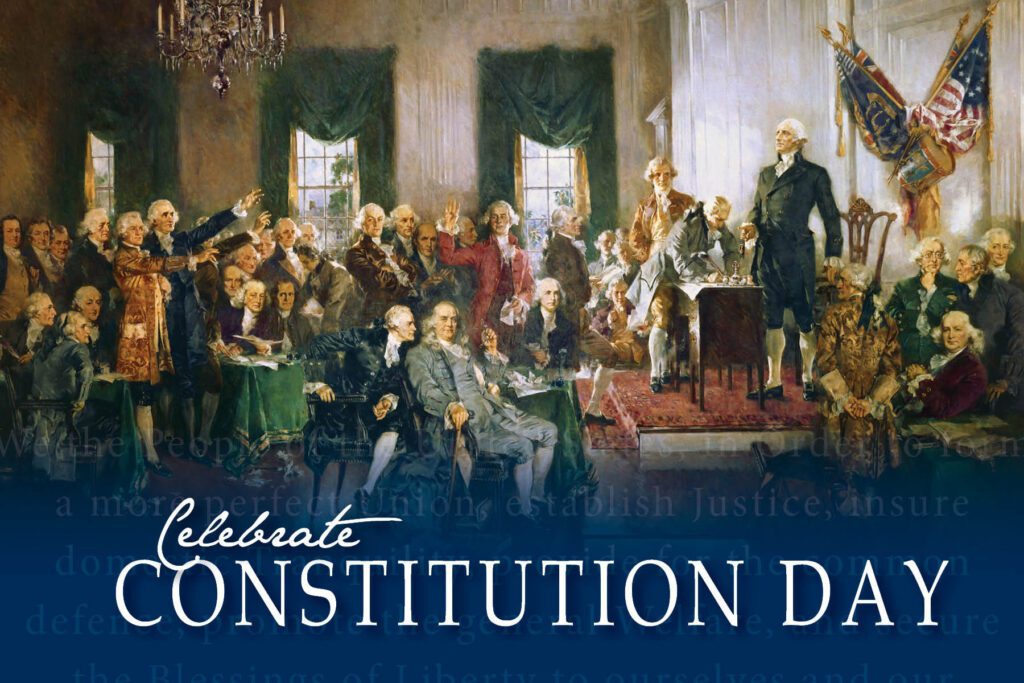 Hannibal-LaGrange University will host a special speaker series to celebrate Constitution Day, beginning with a lecture and Q&A from Dr. Jefferey J. Ventrella with Alliance Defending Freedom on Tuesday, September 7, at 7 p.m. in the Roland Fine Arts Center lobby. In part two of the series, HLGU will welcome David Roland from the Freedom Center of Missouri on Thursday, September 16, at 7 pm in the lobby of the Roland Fine Arts Center. Both events are free and open to the public.
These Constitution Day events are in partnership with the Moorman Foundation.
"We are pleased to once again host our Constitution Day events," says Scott Hall, Moorman Professor of Business at HLGU. "Hannibal-LaGrange University has long been an advocate of the principles of a free and virtuous society. This year, we've expanded on Constitution Day and will have two events."
Dr. Jeffery J. Ventrella serves as senior counsel with Alliance Defending Freedom, where he is the senior vice president of academic affairs and training. Alliance Defending Freedom is the world's largest legal organization committed to protecting religious freedom, free speech, and the sanctity of life.
Since joining ADF in 2000, Dr. Ventrella has designed curriculum for ADF training and professional development programs. He also helped develop ADF International's Areté Academy Europe, Asia, and Latin America, which provide training for international advocates and cultural leaders. Additionally, he is the author of "The Cathedral Builder: Pursuing Cultural Beauty," and contributor to nine books.
Dr. Ventrella holds a bachelor's degree in music education from the University of Northern Colorado, a doctorate in church and state studies from Whitefield Theological Seminary, and a juris doctorate from the University of California Hastings College of the Law. He is a member of the state bar of Idaho and has practiced law since 1985.
"We are excited to have Dr. Ventrella with us to speak on the importance of our Constitution and its role in promoting and protecting the principles of a free and virtuous society," says Hall. "The next week, we're pleased to host Mr. David Roland from the Freedom Center of Missouri, who will look into the concepts that framed our Constitution and how that has worked throughout history."
David Roland is the director of litigation and co-founder of the Freedom Center of Missouri (FCMo). Roland also serves as the secretary for the Freedom Center's board of directors. FCMo is a non-profit, non-partisan organization co-founded by Roland and his wife Jenifer in 2010. FCMo is dedicated to research and constitutional litigation in the areas of freedom of expression, economic liberty, property rights, religious liberties, and limited government.
Roland earned undergraduate degrees in political science and biblical studies before earning his law degree and master's in theology at Vanderbilt University.
Before co-founding the Freedom Center of Missouri, Roland spent several years in Washington D.C. as an attorney with the Institute for Justice. He also worked for the Show Me Institute in Missouri which is dedicated to promoting free markets and individual liberty.
Major media outlets like the Wall Street Journal, the New York Times, Fox News, and MSNCB have discussed Roland's work. Since moving to Missouri in 2007, he has been featured in a variety of news broadcasts, radio shows, and newspapers. Roland travels across the state of Missouri speaking to elected officials, student and community groups, and Federalist Society chapters.
For more information about the Constitution Day speaker series, email FreeSociety@hlg.edu.
Hannibal-LaGrange University is a four-year Christian university fully accredited by the Higher Learning Commission. The University prides itself in its traditional and nontraditional educational experience in a distinctively Christian environment.