HLGU is excited to once again host the World's Largest One-day Leadership Conference in 2018.

We will have more information in January. Below is a recap of our 2017 event.
Leadercast is the world's largest one-day leadership conference, broadcast LIVE from Atlanta and simulcast to hundreds of locations around the world on May 5, 2017.  This year marks the seventeenth year of the annual leadership conference and the fourth year that Hannibal-LaGrange University and Hannibal Regional Healthcare System will be hosting the event. The simulcast will be held at HLGU's Roland Fine Arts Center. Event day registration will begin at 7:30 am with the conference starting at 8:00 am.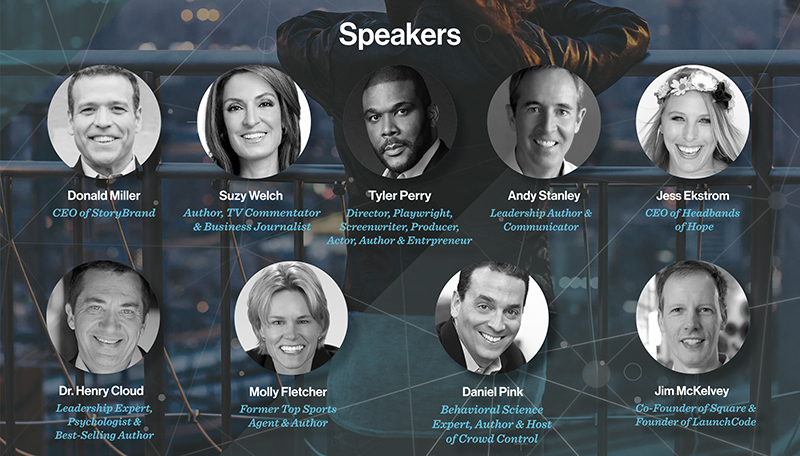 Among the keynote speakers are:
Tyler Perry – Director, Playwright, Screenwriter, Producer, Actor, Author & Entrepreneur
Andy Stanley – Leadership Author & Communicator
Henry Cloud – Acclaimed Leadership Expert, Clinical Psychologist, & Best-Selling Author
Daniel Pink – Behavioral Science Expert, Best-Selling Author, & Host of Crowd Control
Molly Fletcher – Former Top Sports Agent & Author
Suzy Welch – Author, TV Commentator, & Business Journalist
Jess Ekstrom – CEO of Headbands of Hope
The theme of this year's conference is, "Powered by Purpose."  Purpose is what defines us, drives us, and empowers us.  It is the glue for an organization and the fuel for an individual.  Today's organization can't rely on old practices. A new organization is emerging, and at the center of its driving force is the igniting power of purpose.
Companies with ideals of improving people's lives at the center of all they do outperform others by 400%
More than 70% of people consider an organization's environmental and/or social impact when deciding where to work
Employees that feel they are working towards a good cause show increased productivity by up to 30%
People who are able to make a social or environmental impact on the job are more satisfied by a 2:1 ratio
The conference will allow attendees to discover the steps they can take to uncover their purpose, to reconnect to their organization's "why", to attract and engage the right people for your efforts, and to thrive as a team.  Key speakers – with purpose-driven leadership– will inspire the more than 100 people who attend locally, and the more than 100,000 people who will attend the event live in Atlanta or at hundreds of other simulcast locations in more than 20 countries.
For years, Leadercast has brought people together and equipped them to become better leaders, managers, community members, and employees. Here is what people have to say about Leadercast:
"We believe strongly that the development of well-equipped regional leaders is an essential ingredient in pursuing our vision of a healthier and more vital northeast Missouri.  We are very pleased to be working with HLGU to bring this incredible line-up of leadership and inspiration to our region," remarked C. Todd Ahrens, President and CEO of Hannibal Regional Healthcare System.
"It is one of the single most consolidated sources of leadership that I know of," said Lauren Youse, HLGU Alumni Director. "But it goes beyond that. I think this conference, although very focused on leadership, transcends the topic and really shows you how to lead in life."
"Leadercast is something that anyone from education to management can benefit from and should attend. We are all leaders in some way and should continue to seek guidance on improving ourselves. I believe we should bring our entire office. I'm looking forward to Leadercast 2017," Bob Pollard, Director of Client Services, Benson Financial Group.