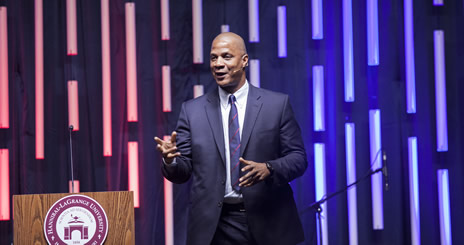 by Rebecca Sneed
It was a beautiful evening for the five hundred guests who attended Hannibal-LaGrange University's 75th Annual Booster Banquet which featured keynote speaker Darryl Strawberry.
Strawberry's keynote address was centered on following God's will and the dramatic change that occurred in his life when he answered the Lord's call.
"I'm just a prime example of 'why am I here?'" Strawberry said. "I had drug addiction, I've been in prison, I lost my left kidney, got cancer twice, so God does have a plan. We all have to understand that His plan is better than the projection of man's, God never gives up on nobody, and we as people, we got to stop giving up on people."
After suffering years of abuse at the hands of his father until the age of 14, Strawberry searched for comfort in playing baseball.
"My pain led me to my greatness and my greatness led me to my destructive behavior," he explained.
When Strawberry was drafted into Major League Baseball at age 21, he was welcomed to the big leagues by other players who introduced him to cocaine. As he fell deeper and deeper into his various addictions, he watched a teammate named Gary Carter live his life as a Christian his entire career.
"As a young man, and as a player and athlete, when I saw that, I wanted it, I just didn't know how to get there, and I think a lot of other players wanted that too, but they just didn't know how to get there," Strawberry said. "I think [Gary Carter] would be extremely, extremely proud of me for who I am today because he always told me I had a call in my life. He said, 'I hope you answer the call because it's greater than baseball.'"
Carter wasn't the only one who told Darryl he had a greater purpose in life.
"My mother had always told me, 'God's gonna get it outta you.' She told me, 'You're gonna go through it, but He's gonna get it outta you,'" he said. "Momma don't lie."
In 1990, Strawberry was invited to a Morris Cerullo crusade where the truth of the gospel impacted him and he was led to the Lord.
"I got saved, but I missed the whole part of being saved," said Strawberry. "I missed the discipleship. I just got saved, I didn't get discipled, and without discipleship you go back to the familiar, and that's what happened to me. I went back to the familiar for the next 15 years of my life."
While struggling though his addictions again, Darryl met his wife Tracy, whom he credits with leading him back to the cross.
"God always uses people. It's just a matter of people answering the call. It took me a very long time to answer the call. You know I didn't want to answer the call because I didn't feel I was qualified. I didn't feel I had the education to go and be a minister of the gospel and preach. God doesn't care. He calls you from right where he calls you, and He transforms you into the person he wants you to be, and that's what happened. [Tracy] saw that in my life and she believed that in my life and I've been changed and transformed forever."
Strawberry believes God had a purpose and a plan for what he went through, and that was so the Lord can use him to reach others for his glory.
"The old me, the baseball player and the drug addict, he's dead. He's no longer there because Galatians 2:20 talks about how I am crucified in Christ. It's no longer I who live, it's Christ who lives in me," Strawberry quoted. "I had a bunch of stuff, and I thought I was a power hitter, but when I met Jesus, Jesus had all the power."
Today, Darryl and his wife have opened two addiction treatment centers in Florida and a foundation that supports those with autism. In addition, he is an ordained minister who travels the country sharing the gospel and how it has affected his life.
"We need to continue to empower our younger people about their faith," he said in closing. "This night is about empowering this university and what they do for young people."
He continued, "God is not looking for your finances, God is looking for your heart. God doesn't need your money. He doesn't need nothin'…We all have our time and everything that we can invest into this university because it's going in a positive way. When you see these young people up here and you hear these testimonies, it is going in the right way. It is going to the right place because they are being empowered by Christ and their lives will change forever."
In closing, he added, "Those of you who have an opportunity to sow into this program, this school, this university, sow. God spoke to me clear about rewards. God said, 'Your rewards are on the other side.'"
In addition to Darryl's story, those in attendance at the banquet also had the opportunity to hear a testimony from HLGU senior, Angie Smith.
"As I reflect and think about the struggles that God brought me through, the classes that I've been through, and the relationships that I've built with my teachers and classmates, one of the biggest lessons that stands out is freedom," said Smith. "I'm so grateful for my University because it's provided an atmosphere for me to learn those things. I have had opportunities here that I never could have dreamed of. My expectations were so surpassed."
Following Smith's testimony, HLGU's Praise Song took the stage to perform a selection of their praise and worship pieces from the semester.
The evening was closed out by Dr. Anthony Allen, HLGU President, who appealed to those in attendance to support the students at HLGU.
"People ask me all the time, 'Dr. Allen, how is it that you can ask people for money all the time?' and I say, 'If you were asking for the people I'm asking for, you wouldn't be ashamed to ask either,' because I believe that every dollar, every investment that we make is going to make a difference for eternity in the lives of young people who are here."
All in all, an enjoyable evening was had by everyone in attendance. For more information about HLGU's annual Booster Banquet, please contact Lauren Youse, director of alumni services and development at 573-629-3126, or via email at lauren.youse@hlg.edu.