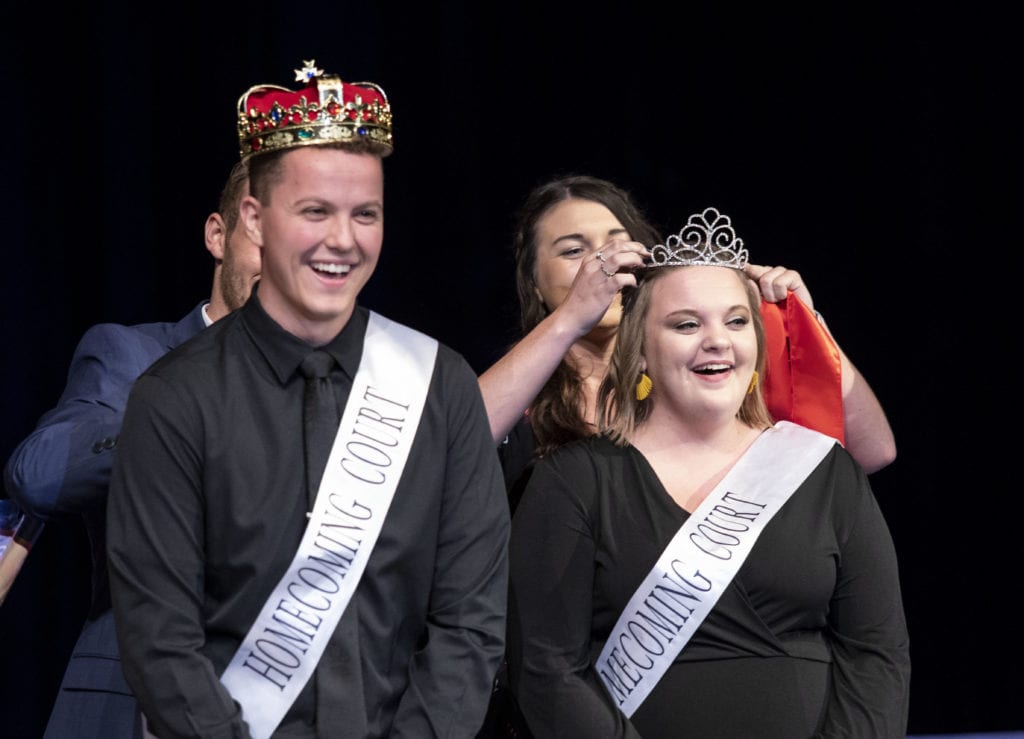 Hannibal-LaGrange University cherishes yet another successful Homecoming full of past and present students taking pride in the University. Homecoming weekend ran from October 5-6. The weekend included a variety of Homecoming traditions such as a banquet, alumni games, the alumni art show, and the crowning of Homecoming King and Queen. This year, Homecoming honored HLGU classes of 1969, 1979, 1989, 1999, and 2009.
Homecoming weekend kicked off Friday with the HLGU Annual Alumni Golf Classic. Additionally, new members of the 50-Year Club were inducted that morning. The 50-Year Club was established to honor alumni who attended Hannibal-LaGrange 50 or more years ago. Members of the class of 1969 were given a campus tour and treated to a special luncheon. At this luncheon new members were honored with medallions that signified their induction.
The annual Homecoming Alumni Art Show Reception took place Friday evening. It featured a variety of artwork from individual artists who are HLGU alumni. This year the exhibit featured a variety of different media. This included digital media such as photography, advertisements, and video.
Saturday included alumni games of baseball, softball, volleyball, and men's and women's soccer. HLGU's campus caterer, Fresh Ideas, sold BBQ and sides in the Alumni Tent. Later at noon, families gathered in the Loft located inside the HLGU Student center for a performance by the HLGU Theatre Department called "Star Trip." A petting zoo was also set up that morning and afternoon and was enjoyed by an estimated 300 people.
Saturday afternoon both the men's and women's soccer teams faced Williams Baptist University. The men's team tied 1-1 in double overtime, and the women's team lost 2-0. Two senior men were honored before the game for their dedication to the soccer program. They are Renato Barroso and Gabriel Dias of Brazil. The Lady Trojan Senior Day will be held Saturday, November 2.
The anticipated Homecoming banquet took place Saturday night and treated alumni, families, and current students to a buffet feast in the Mabee Sports Complex. This was followed with festivities in the Roland Fine Arts Center, including the crowning of Homecoming King Brace Tiemann and Queen Sierra Brodhacker, and the recognition of this year's alumni award winners. The evening wrapped up with entertainment presented by the HLGU faculty and staff with the campus' version of "Are you Smarter than an Undergrad?"
This year, the Distinguished Alumni Award was presented to Lea Ann Arnold DNP'77. This award is presented to an HLGU graduate for significant and broad accomplishment in business or professional life, or for state or nation. Lea Ann was born in Poplar Bluff, MO and earned her associates degree at HLGU in 1977. She later earned her BSN from William Jewell, her MSN from the University Illinois Chicago, and her DNP from St. Francis University. She has worked full time in hospitals as a nurse including being a nurse on the unit, a nurse in critical care, middle management positions in oncology, neurology, emergency department, and case management before transitioning to informatics in 2009-10. Currently, Lea Ann is director of nursing informatics for Northwestern Medicine Healthcare, a system of ten hospitals in the Chicago area. She enjoys spending time with family, traveling, reading, and taking long walks. Lea Ann and her husband Craig have been married for 40 years and currently live in Naperville, IL. They are the proud parents of Andrew (wife Megan) and Alex (wife Samantha), and grandparents to Brynn. Their church home is Springbrook Community Church.
This year's Outstanding Young Alumnus Award was presented to Dr. Brandon Keisling'09. This award is presented to an HLGU graduate, who is age 35 or younger, for outstanding accomplishments in their professional, business, community, state, or nation. Keisling was born is Jefferson City and received his Bachelor of Arts in Biblical Studies from HLGU in 2009. Since then, he has earned a Masters of Divination in Evangelism and a PhD in Evangelism and Church Vitalization from Southwestern Baptist Theological Seminary (SWBTS). Since then, he has served as the administrative assistant to doctoral programs at SWBTS. He also served as an instructor of evangelism and assistant professor of evangelism. Lastly, he has served as the associate pastor of young adults for First Baptist Church in O'Fallon, MO. Keisling is married to Alicia Keisling, another HLGU alum. They are proud parents of six-year-old Aiden, four-year-old Austin, and six-month-old Addison.
HLGU's winter homecoming is scheduled for January 18. For more information, contact Lauren Youse at 573.629.3126, or via email at lauren.youse@hlg.edu.