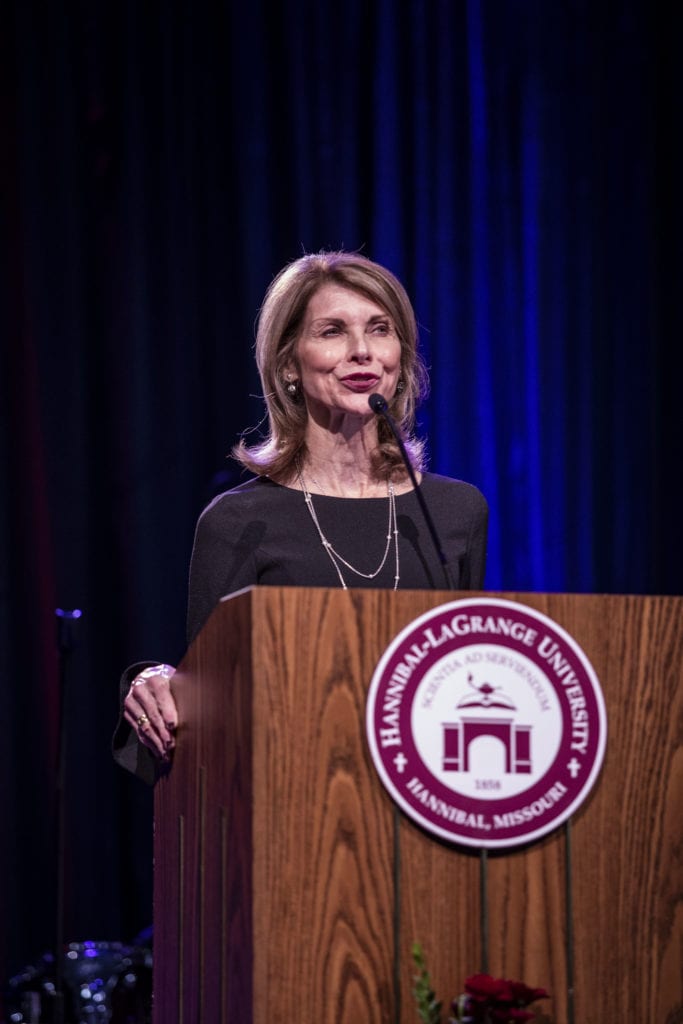 Pam Tebow's recent address at Hannibal-LaGrange University's Booster Banquet is being heralded as a great success for the institution.
Tebow's message centered on the importance of putting God first and how a Christian education can provide a strong foundation for a faith-filled life.
"Investing in this school is worth it," she said. "They combine faith and learning. They are not two separate subjects. They go together. I love that about this University."
"I'm just so amazed," Tebow continued. "The more I learn, the more excited I become to be able to speak on your behalf."
Pam Tebow is the mother of Tim Tebow, famous NFL quarterback. Pam's notoriety increased when Tim, then quarterback for the Florida Gators, became the first sophomore to win the Heisman Trophy. During the nationally televised Heisman broadcast, ESPN aired a portion of an interview that focused on her refusal to abort Tim when she was advised to do so during the high-risk pregnancy.
"On national television there was suddenly a prolife message, and a prolife ministry that followed," she said. "That's God! That's our master writing his incredible stories, and as we trust him and develop our faith muscles, he comes through and does more than we ever could even imagine in our lives, and in the lives of the people we've impacted."
As Tebow and her husband Bob raised and homeschooled their five kids, they taught them to think like servants, saying "You're going to be great because you serve," a way of life that ties in well with HLGU's motto, "knowledge for service."
"You just don't learn, you learn so you can use it to serve the people that you connect with," Tebow said. "That's how you impact lives. You serve people."
She continued to encourage those in attendance to "work for those things that last forever" saying that people, souls, last forever.
"When you invest in eternal things, then you get eternal rewards," she said. "Investing in HLGU is an eternal investment. You're investing in the lives of these kids in a distinctively Christian school to learn all they can and prepare for a life of honoring Him, and they go out and they will impact their world for Christ."
"God sees everything we do for the cause of Christ and he allows you to be exposed to the missions that he wants you to be involved in," said Tebow as she wrapped up her message. "I've just been so impressed. I do a lot of fundraisers and this is one I absolutely have no doubt about. As I've met so many people and talked to people from the professors to the students to the very proud alumni to the people in their families, I'm convinced that this is a distinctive Christian school that honors their master, that has a biblical world view, and that has a mission statement to impact their world for Christ."
Prior to Tebow's address, HLGU's ministry team Praise Song took the stage to perform a selection of their praise and worship pieces from the semester.
The event was sponsored in part by HNB Bank and WGEM, and the evening was closed out by Dr. Anthony Allen, HLGU President, who appealed to those in attendance to support the students at HLGU.
"We desire that the University would have the opportunity to make a difference in the lives of our students to make a ripple effect in the world in changing people's lives," said Dr. Allen. "We're making a difference here."
The 2020 Booster Banquet has been tentatively scheduled for November 20. For more information about HLGU's annual Booster Banquet, please contact Lauren Youse, director of alumni services and development at 573-629-3126, or via email at lauren.youse@hlg.edu.
by Rebecca Sneed '12