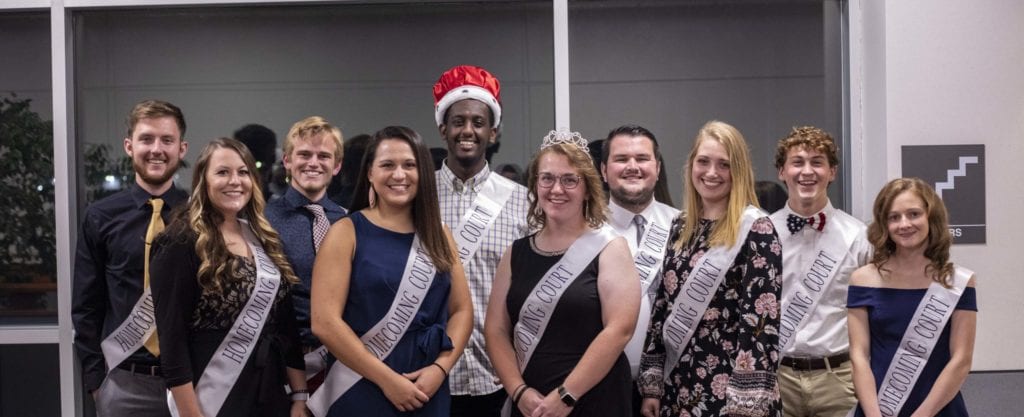 Hannibal-LaGrange University cherishes yet another successful Homecoming full of past and present students taking pride in the University. Homecoming weekend ran from October 1-3. The weekend included a variety of Homecoming traditions such as the Alumni & Friends Golf Classic, Team Trivia, and the crowning of Homecoming King and Queen. This year, Homecoming honored HLGU classes of 1970, 1980, 1990, 2000, and 2010.
Homecoming weekend kicked off Thursday when new members of the 50-Year Club were inducted. The 50-Year Club was established to honor alumni who attended Hannibal-LaGrange 50 or more years ago. Members of the class of 1970 were treated to a special luncheon and special HLGU memories were shared. At this luncheon new members were honored with medallions that signified their induction.
Following the luncheon, Dr. Neil Franks with the Missouri Baptist Foundation presented an estate planning seminar.
Friday began with an Arbor Day Celebration outside of the Carroll Science Center to celebrate HLGU being named a Tree Campus USA for 2019 and to honor Dr. Gerald (Jerry) Burkett for his 31 year of service to the HLGU science department.
"Jerry and his wife Mary spent their careers in service to the Lord and to Hannibal-LaGrange University," said Dr. Anthony Allen, HLGU President. "We are pleased to celebrate Jerry's life and honor his memory. He was loved and appreciated by all and was well-liked by students. We celebrate being a Tree Campus USA institution and plant these trees and install these benches in memory of Dr. Jerry Burkett."
Speakers at the event included Dr. Allen, Vice President for Institutional Advancement Dr. Ray Carty, Kyle Monroe with the MO Department of Conservation, Hannibal Mayor James Hark, Chair for the Hannibal Tree Board Kristy Trevathan, Campus Tree Advisory Committee Representative Stephanie Reece, HLGU Biology Department Chair Don Colborn, Mr. Paul Mills, and Mrs. Mary Burkett.
Also on Friday was the HLGU Annual Alumni & Friends Golf Classic at Norwoods Golf Club. Fifteen teams battled in a scramble style classic for first, second, and third place. A BBQ lunch was prepared by Alumni Director Lauren Youse '05 M '16 and her dad Jim Youse '76. After eighteen holes of golf, Josh Gottman '05, Jared Gottman, Seth Gottman (Josh's Son), and Matthan Veanes '05 earned first place with a score of 53. They had five Eagles. Second place went to Brian Scott '84, Tracy Scott, Men's Golf Team Member Mariano Mauri, and Men's Golf Team member Carlos Pena with a score of 55. Third place and "Best Dressed" was awarded to Joe Brooks '08, Aaron Wooff '07, Austin McDowell '07, and Ben White '08. Mariano Mauri had the longest drive. Closest to the Pin was earned by Brian Scott. Longest Putt went to Jared Gottman.
The anticipated Homecoming Court Coronation took place Friday night in the midst of Team Trivia. King candidates were Tanner Selvidge, a Christian studies major from Mt. Vernon, MO; Nick Douglas, an early childhood education major from Calwood, MO; Zeru Fitsum, a Christian studies major from Olathe, KS; Caleb Isaacson, a Christian studies major from Richmond, MO; and Cyle Buterhott, a sports and recreation management major from Lonedell, MO. Queen candidates were Kellie Hamilton, a Christian studies major from Meadville, MO; Lauren Murphy, an early childhood education major from Greenwood, IN; Emma Anderson, a public relations major from Ashland, MO; Lauren Sisco, an exercise science major from Alton, MO; and Kendra Jacob, an exercise science major from Hillsboro, IL. The 2019 Homecoming King and Queen, Brace Tiemann and Sierra Brodhacker, returned to campus to crown the 2020 king and queen, Zeru Fitsum and Kelli Hamilton.
Team Trivia was hosted by HLGU Registrar Jeremy Wallace '08. Teams were made up of faculty, staff, and students. Team France, made up of students Infinatasia Moore, River Thompson, Tori Young, Cole Trautman, and Caleb Nading, came from behind in the final round to win the entire tournament.
On Saturday morning HLGU unveiled and dedicated nursing memorabilia donated to the Craigmiles School of Nursing by the Craigmiles family. Marilyn Craigmiles Thomas and Bill and Wendy Craigmiles donated meaningful and special nursing items including a World War I nurse's helmet and a 1960s nursing uniform and cap, just to name a few. Mrs. Craigmiles explained the significance of each item and the story behind it. The memorabilia are displayed inside the Carroll Science Center and can be viewed by the public during open hours.
"These types of artifacts provide a foundation for the kind of culture we want to develop and maintain at HLGU," said Vice President of Institutional Advancement Dr. Ray Carty. "They truly represent "knowledge for service" to our students, faculty, staff, and alumni."
Saturday afternoon both the men's and women's soccer teams battled Central Baptist College. The men's team won their fourth straight game by a score of 6-1 and the women's team lost 1-0. HLGU recognized and celebrated three men's soccer seniors Vicente Rubina (SR/Lima, Peru), Luis Filipe (SR/Brazil), and Jordan Jones (SR/Niamey, Niger). Women soccer seniors will be recognized in the spring.
Next year's fall homecoming is scheduled for September 30 – October 2. HLGU's winter homecoming has been canceled due to our COVID-19 safety concerns. For more information, contact Lauren Youse at 573.629.3126, or via email at lauren.youse@hlg.edu.
Hannibal-LaGrange University is a four-year Christian university fully accredited by the Higher Learning Commission. The University prides itself in its traditional and nontraditional educational experience in a distinctively Christian environment.