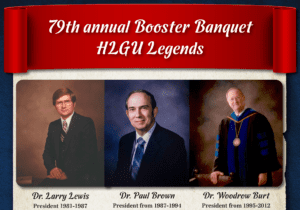 Despite being cancelled due to the COVID-19 pandemic, the Hannibal-LaGrange University Booster Banquet featuring HLGU legends Dr. Larry Lewis, Dr. Paul Brown, and Dr. Woodrow Burt can be viewed virtually.
"Hannibal-LaGrange University has been nurtured and supported throughout the years by dynamic Christian leadership," Dr. Allen said. "This year's Booster Banquet highlighted three of our past presidents. What a special time to reminisce about the faithfulness of God in our past, present, and future."
Dr. Larry Lewis served as HLGU president from 1981-1987. He helped HLGU transition from a predominantly two-year institution to a four years. Dr. Paul Brown was president from 1987-1994 and led HLGU through the historic 1989 fire. Dr. Woodrow Burt served as president from 1995-2012. His presidency included great growth in enrollment and new buildings like the Roland Fine Arts Center and Roland Library.
"I was very disappointed that our live event had to be cancelled – but we did not want to risk the safety of our attendees, faculty, staff, and students," said Lauren Youse, director of alumni services and development. "Our next best option was offering a virtual Booster Banquet. The video we created is actually a wonderful piece that has the advantage of being viewed and shared over and over again. I'm excited to have these great memories from our past presidents that we can archive and enjoy for years to come."
After reaching out offer a refund to all those who had purchased tickets for the cancelled physical Booster Banquet, a vast majority of ticket holders encouraged HLGU to keep their contributions as a donation to the University.
"The generous support we receive through our alumni and friends is vital as we seek to provide Christ-centered higher education," Dr. Allen said. "Your hearts will be warmed by the testimony of our legends."
Next year's Booster Banquet is currently scheduled for November 19, 2021. For more information about HLGU's annual Booster Banquet, please contact Lauren Youse, at 573-629-3126, or via email at lauren.youse@hlg.edu.
Hannibal-LaGrange University is a four-year Christian university fully accredited by the Higher Learning Commission. The University prides itself in its traditional and nontraditional educational experience in a distinctively Christian environment.