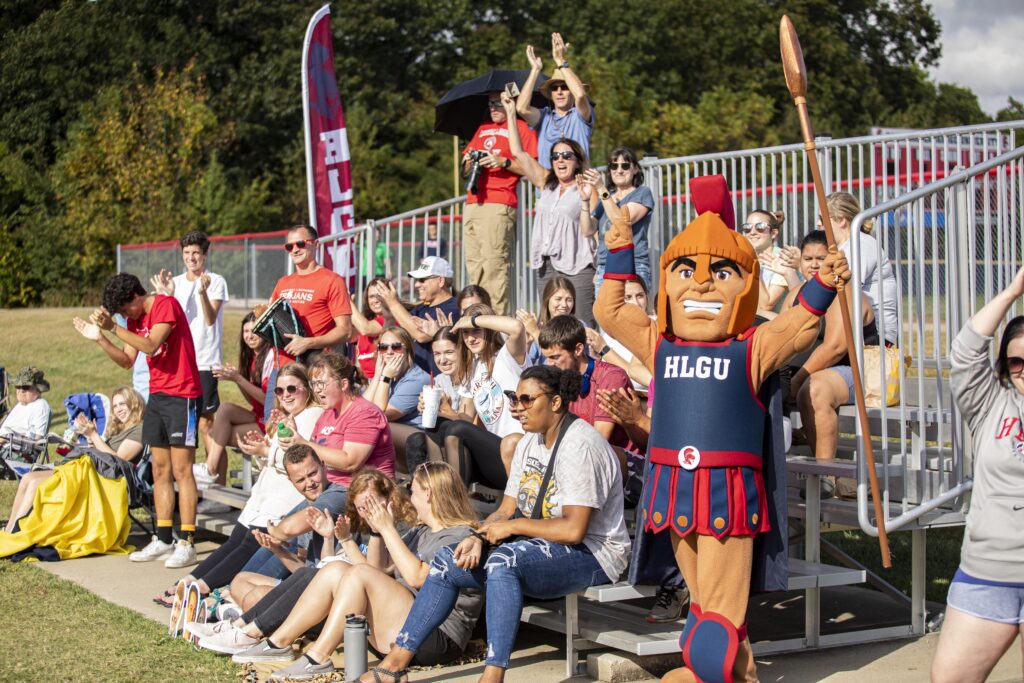 Hannibal-LaGrange University enjoyed yet another successful Homecoming weekend that featured fun events for past and present students of the University. The weekend included a variety of Homecoming traditions such as the Alumni & Friends Golf Classic, Team Trivia, and the crowning of Homecoming King and Queen.
Homecoming weekend was kicked off on Thursday when new members of the 50-Year Club were inducted. The 50-Year Club was established to honor alumni who attended HLGU 50 or more years ago. This year, members of the classes of 1970 and '71 were treated to a special luncheon and HLGU memories were shared. At this luncheon, new members were honored with medallions that signified their induction.
Friday featured the HLGU Annual Alumni & Friends Golf Classic at Norwood's Golf Club. Fifteen teams competed scramble-style for the title. After 18 holes of golf, the team 3-Peat, comprised of Josh Gottman '05, Matthew Jones '06, Scott Huff '04 and Matthan Veanes '05 took first place. The longest putt award went to Scott Huff '04, closest to the pin went to Austin McDowell '07, and longest drive was awarded to current HLGU golf team student-athlete Clark Norris. A BBQ lunch was prepared by Alumni Director Lauren Youse '05 M '16, and her dad Jim Youse '76.
Also on Friday, a reception and reunion was held for this year's Alumni Art Show. The exhibit celebrated the success of past students in their art careers and journeys and allowed HLGYou alumni to meet and reconnect. Featured alumni artists were Hannah Mundle Schildknecht '18, Connie Garner Stevens '63, and Jordan Jones '21.
On Friday evening, Team Trivia took place in the Roland Fine Arts center lobby. Hosted by HLGU Connect Center Coordinator Heather McSmith '01, teams were made up of faculty, staff, alumni, and students. The team Proverbs 18:13 made up of HLGU staff and faculty Daniel Bartlett, Sarah Bartlett, Jordan Hosmer '10, Tad Wingo, and Chris Yingling won the event.
Saturday provided all sorts of fun activities for HLGU alumni and friends. Alumni games were hosted by the HLGU baseball, softball, women's soccer, and women's volleyball teams. A petting zoo entertained children and adults alike outside the Mabee Sports Complex along with a BBQ lunch served by the HLGU Institutional Advancement and Student Life offices.
Both Trojan soccer teams took on Williams Baptist University on Saturday afternoon. The women's soccer team lost 1-2 against WBU. The men's soccer team tied with a 2-2 contest. Prior to the game, the men's soccer team recognized and celebrated four seniors: Rodrigo Povedano from Madrid, Spain, and Nicholas Cruz, Juan Pablo Suazo Cerpa, and Martin Gutierrez, all from Santiago, Chile.
Saturday evening was highlighted with the 2021 HLGU Alumni Awards banquet. The banquet featured three special alumni awards. The award for Distinguished Alumnus went to David Dexheimer '66. The Outstanding Young Alumnus Award went to Nathan A. Carroz '08. The Outstanding Service Award went to Ilda Kennon '67.
Homecoming Weekend finished up with a bang at the Homecoming Bash on Saturday night. Alumni, faculty, staff, and students were treated to a night of food, music, games, and entertainment. The 2021 HLGU Homecoming Court was introduced between women's and men's soccer games earlier in the day. This year's homecoming king candidates included Rodrigo Pavedano Ramirez, a sports and recreation management major from Colmenar Viejo, Spain; Landon Hall, a physical education major from Eolia, MO; Ethan Bray, a Christian studies major from Macon, MO; and James Cheney, a Christian studies major from Springfield, MO. Homecoming queen candidates included Katie Few, a computer information systems and English major from Memphis, TN; Sicily Johnston, a psychology major from Cape Girardeau, MO; Sarah Hanson, an early childhood education major from Columbia, MO; and Lydia Bross, a nursing student from Burlington, IA. 2020 Homecoming king Zeru Fitsum and Kellie Hamilton returned to campus to crown this year's king and queen, Ethan Bray and Sicily Johnston.
Next year's fall homecoming is scheduled for September 30 – October 1, 2022. For more information, contact Lauren Youse at 573.629.3126, or via email at lauren.youse@hlg.edu.
Hannibal-LaGrange University is a four-year Christian university fully accredited by the Higher Learning Commission. The University prides itself in its traditional and nontraditional educational experience in a distinctively Christian environment.