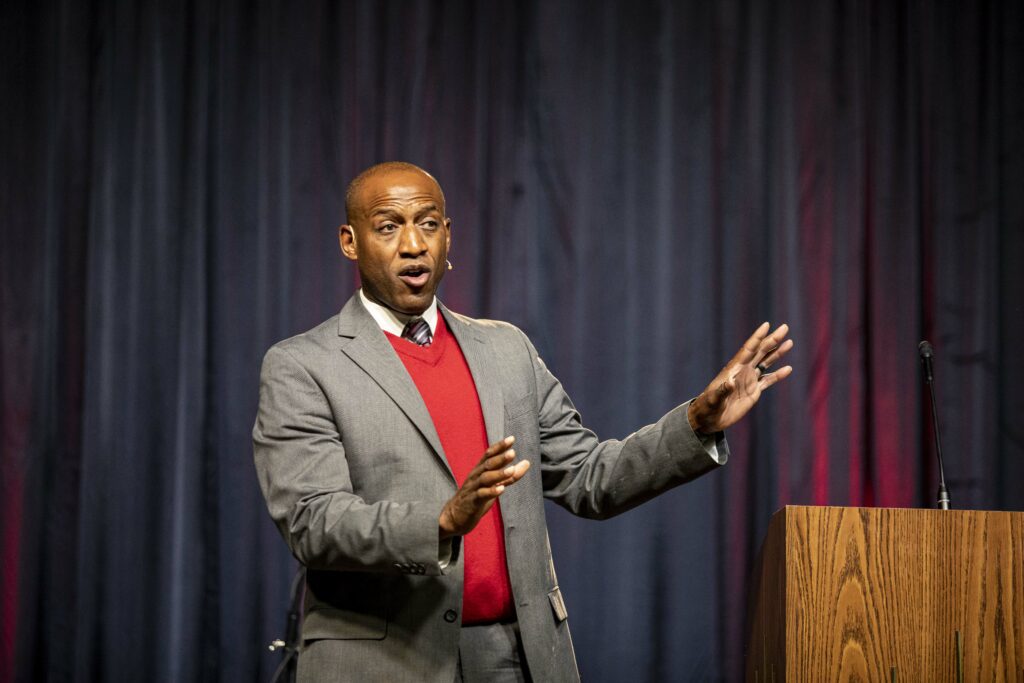 The 2021 Hannibal-LaGrange University Booster Banquet featuring guest speaker Ken Bevel was an incredible success for the University.
Bevel is recognized by his roles as Lieutenant Michael Simmons in the 2008 inspirational movie Fireproof and for his role as Nathan Hayes in the 2011 movie Courageous.
A native of Jacksonville, Florida, Bevel served in the United States Marine Corps before retiring to serve in ministry. He's currently the pastor of Membership and Local Missions at Sherwood Baptist Church in Albany, Georgia.
Bevel's message to HLGU on Friday night encouraged generosity through investment into the students, faculty, and staff and Hannibal-LaGrange.
"I believe you can make a huge impact on the world right here at Hannibal-LaGrange University," Bevel said. "I've seen the spirit at work in the students at this school. I walked the campus and thought, 'What a beautiful picture of men and women coming together for the glory of God.'"
Bevel shared his incredible testimony with the packed audience in the Mabee Sports Complex. He came from a checkered past, but when he came to know the Lord, his life was quickly turned around.
"As a young man, I became hard-hearted and rebellious. I started going into the streets, doing things that were despicable in the eyes of the Lord, and I didn't care. At the age of 17, I knew I was going to be dead, in jail, or on drugs if I didn't figure it out."
In order to try and get his life together, Ken joined the Marine Corps where he continued to get in trouble and struggled to get his life together. At perhaps his lowest point, he gave his life to Christ.
"God said in that moment, 'I have something for you to do, and I need you to go and do it.' The Lord and his mercy gave me a second chance. That day, God rescued me."
Bevel went on to describe his ministry through his church that would go on to produce Fireproof and Courageous. While he had no prior acting experience, Ken felt called to act in the films and the church staff felt called to cast him. Both "Fireproof" and "Courageous" went on to be huge successes.
"I started seeing the gifts and the body of Christ coming and serving together on those movie sets," Bevel said. "and I've seen those similar things right here at Hannibal-LaGrange University."
"God can use you," Bevel continued. "If you're thinking to yourself, 'What can I do more with my life and what am I called to?' I encourage you to think about the gifting that God has called you to. Use the gifts that God has given you, and employ them for the glory of God. When you do that, you will have decided to surrender all and give it all to Jesus."
Prior to Bevel's message, the audience was treated to a performance by the HLGU Chamber Choir as well as piano music from HLGU Instructor of Music Alyssa Pyne. The night was finished by a charge from HLGU President Dr. Anthony Allen.
"Your support is needed," Dr. Allen said. "We need you to join us now more than ever. The last two years have been difficult for higher education, especially institutions like Hannibal-LaGrange University. Join us in our mission to provide a high-quality Christian higher education."
This HLGU Booster Banquet was sponsored by HNB Bank.
The 2022 Booster Banquet is scheduled for Friday, November 18, 2022. For more information about HLGU's annual Booster Banquet, please contact Lauren Youse, director of alumni services and development, at 573-629-3126 or via email at lauren.youse@hlg.edu.