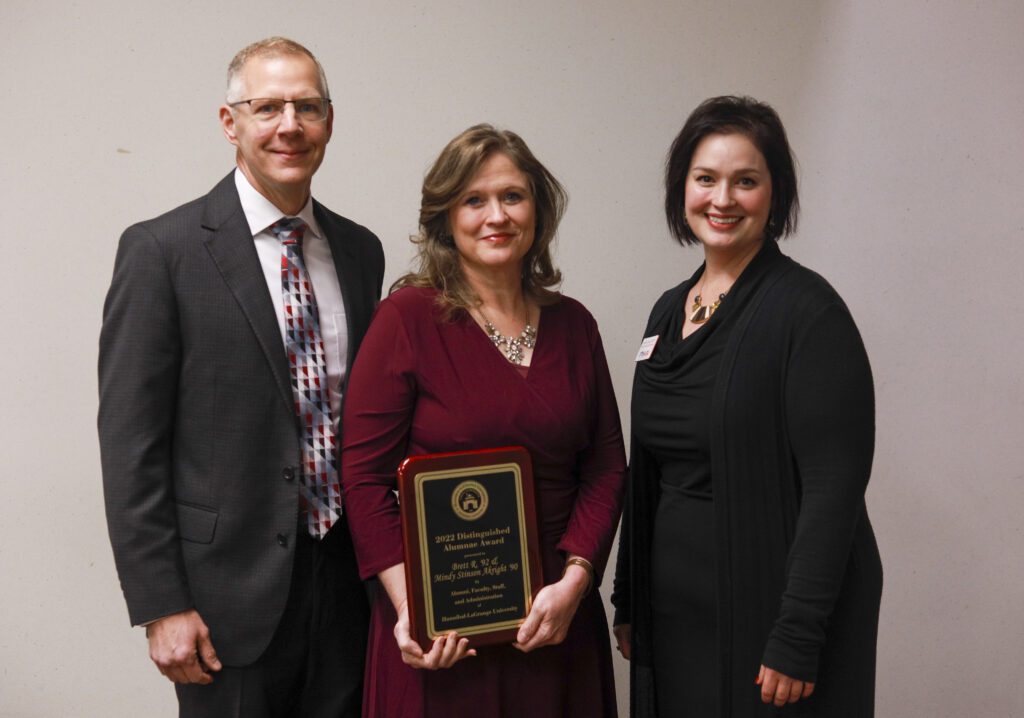 Hannibal-LaGrange University recognized the annual alumni award winners during the 2022 Booster Gala on Saturday, November 12. The Distinguished Alumni Award was presented to Brett R. '92 and Mindy (Stinson) '90 Akright. This award is presented to HLGU graduates for significant and broad accomplishments in business or professional life, or for state or nation.
Brett graduated from HLGU with a BA in Liberal Studies with an emphasis in Bible, History, and Christian Education in 1992. Mindy graduated with an associate of arts degree in 1990.
Brett has furthered his education by earning a Master of Divinity degree in 2008, a Master of Theology degree in 2015, and a PhD in Biblical Studies with an emphasis in New Testament in 2019. After graduating from HLGU, he worked for Reliable Carpenters in new construction and remodeling, BASF, Northland Baptist Church, and UPS. His first position at Midwestern Baptist Theological Seminary was the Online Instructional Designer. He now serves as the Director of Instructional Design, Global Campus and Assistant Professor of Biblical Studies at Midwestern Baptist Theological Seminary. Brett is a member of the Evangelical Theological Society. In his current position, Brett has the opportunity to serve at Midwestern "for the Church" and "for the Kingdom" as they educate God-called men and women to be and make disciples of Jesus Christ.
Brett says, "My liberal arts degree emphases have really come to be significant in my ongoing education and career. My "career" since HLG has been a long and winding road. However, the numerous jobs have been part of God's plan to mold me for the work I do now. While the correlation between past jobs and my current work is not so direct, the experiences have served as learning experiences and sources of wisdom which have served to equip me for my daily tasks."
After graduating from HLGU, Mindy worked as an elementary substitute teacher and stay at home mom. In 2009, Mindy began serving at Midwestern Baptist Theological Seminary as an Administrative Assistant for Doctoral Studies. In August 2020, she was promoted to Director of Doctoral Studies. "My degree opened doors that I would not have been able to walk through otherwise," says Mindy.
As the Director of Doctoral Studies, she works and serves with faculty and staff who are serving the church by equipping leaders in the churches here and abroad. "Though I have not been out of the US myself," says Mindy. "I have friends all around the globe that I have been able to serve and support as they move through their doctoral studies from beginning to end."
Both were involved in campus activities. Brett worked on campus as the press operator in the HLG Printshop which allowed him to connect with fellow students, faculty, and staff outside of the classroom. He also courted Mindy while attending HLGU. Mindy participated in concert choir and the traveling ministry team, Praise Song. She also took voice lessons.
Mindy says, "My father and mother, Jay and Kay Stinson, are alumni of HLGU. HLGU is where my parents met so it is very important to our family! HLGU gave me the tools and confidence to walk through the doors that God put in front of me."
HLGU's motto is "Knowledge for Service." Brett says HLGU shaped him by, "…demonstrating the value of both knowledge and spiritual transformation. As HLGU's motto expresses, knowledge alone should not be the focus. If we are not changed by, and act upon, what we learn, we are not unlike James' description of those who have faith, but do not have works: our knowledge without transformation and service is dead."
Brett and Mindy live in Kansas City, MO and are members of Antioch Bible Baptist Church in Gladstone, MO. They have five children; Joshua (married to Brittany), Caleb, Elizabeth, Nathanael, and Ellyn. Joshua and Brittany have 3 children: Joseph, Delaney, and Oliver.
Brett enjoys family time, running, and continuing to learn about the New Testament and pedagogy. Mindy's hobbies are thrifting and spending time with their family.