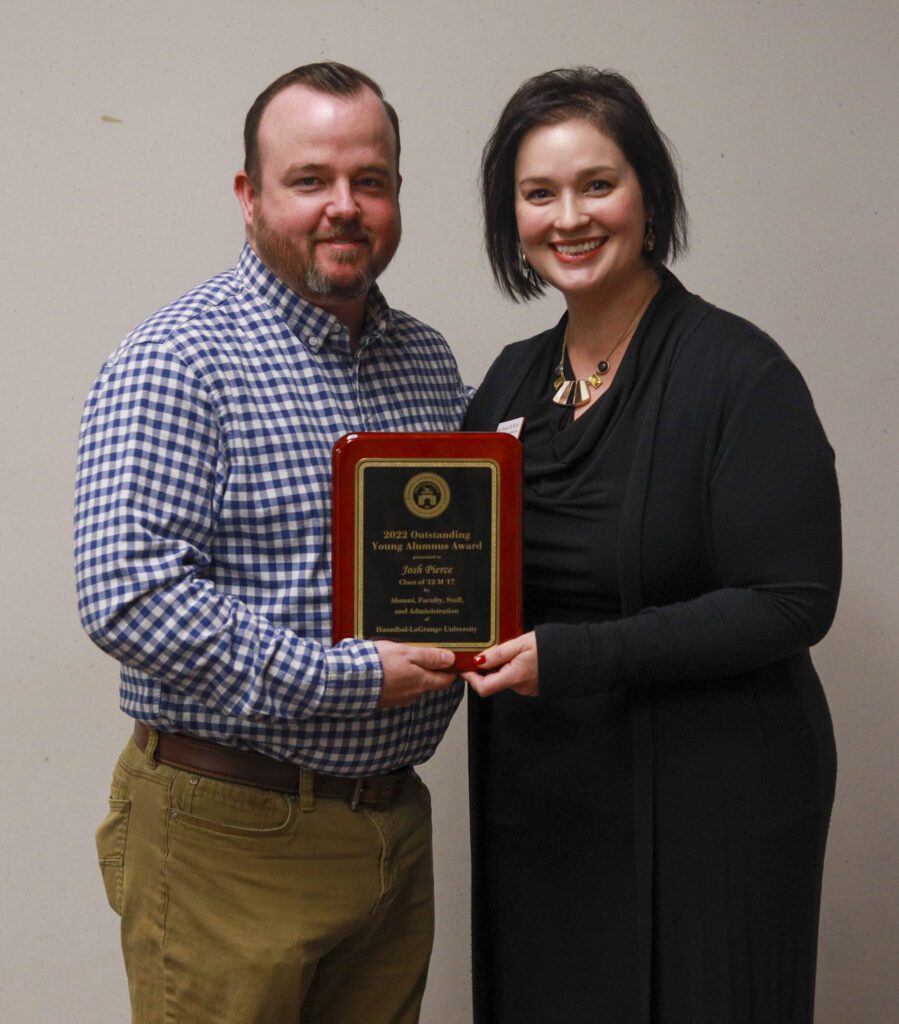 Hannibal-LaGrange University recognized the annual alumni award winners during the 2022 Booster Gala on Saturday, November 12. The Outstanding Young Alumnus Award was presented to Josh Pierce '12 M '17. This award is given to a Hannibal-LaGrange graduate, who is age 35 or younger, for outstanding accomplishments in their profession, business, community, state, or nation.
Josh is from Sikeston, MO and graduated from Hannibal-LaGrange with his Bachelor of Science degree in Business Administration. He earned his Master of Arts in Leadership degree in Organizational Management in 2017.
Pierce served at HLGU for nearly a decade, ending his tenure as the Vice President for Student Life. While serving, he led campus during the COVID-19 pandemic, was instrumental implementing more spiritual life opportunities on campus, and saw the restoration of the Student Center after a storm in 2021. Josh and his family also lived on campus and were always attending student and athletic events as well as hosting them in their home.
He is currently serving as the Executive Director for the Wildwood Family YMCA in Wildwood, MO. Through his current work, he is able to impact lives through programs that support physical and spiritual health.
Josh played baseball while he was a student at HLGU. He enjoys golfing, hunting and spending time with his family. He married his college sweetheart, Sindy. They have two children, Ella and Brooks, and live in Moscow Mills, MO.
Hannibal-LaGrange University is a four-year Christian university fully accredited by the Higher Learning Commission. The institution prides itself in its traditional and nontraditional educational experience in a distinctively Christian environment.