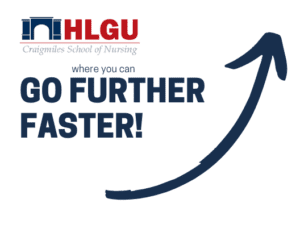 Become a registered nurse (RN) in 3 years by completing your Associate of Science in Nursing (ASN).
Then finish your Bachelor's degree (BSN) in 1 additional year.
Completing your 3+1 ASN+BSN degrees at HLGU allows you to…
Start working as an RN in only 3 years
Earn income faster
Take out fewer loans
3+1 still equals 4. Click here to see our suggested plan of study
Start gaining work experience after 3 years, and move on to your next goal that much sooner!
Why wait? Click here to learn about Early Acceptance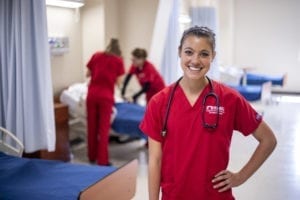 "I wanted to learn from a Christian perspective and be involved in missions opportunities and I knew HLGU would provide these things. The flexibility of the ASN and BSN programs allows me to complete my degree in a convenient manner."    – Shelby Kallem
What can you expect at HLGU?
9 out of 10 students have job offers at graduation
92% of grads pass their state boards on the 1st try
Classmates and faculty who feel like family
Instructors who will take the time to meet with you weekly if you need extra help to succeed!
100% of clinical hours are with real patients
Nursing Schools with that kind of success, experience, and heart are hard to find and often hard to get into…
Introducing Early Acceptance to The Craigmiles School of Nursing
Why should you worry and stress about getting into a great nursing school?
Apply during your senior year and you could receive a guaranteed spot in our nursing program for after you complete your pre-nursing classes.
To apply, students must:
Have at least a 23 ACT or 1130 SAT or a 3.5 High School GPA
Be accepted to HLGU, click here to apply!
Complete the Early Acceptance application. Apply online or download the application.
Attend a campus interview day.
Applications are due March 31.
Interviews will be held in April with announcements being made by May 1. Applicants will also have to be admitted to Hannibal-LaGrange University to qualify for an interview.
Students who do not receive early acceptance are encouraged to apply during their freshman year to continue into the nursing program and still have the opportunity to complete the 3+1 program.
Questions? Please contact: